The ability to store plain text notes, and attach photos and other document types to a record in Microsoft Dynamics CRM has always been a handy tool for collaborating amongst a team. With Microsoft Dynamics CRM 2015 Update 1, we can now leverage the productivity and collaborative features of OneNote within CRM. Below is a feature comparison between traditional CRM Notes and OneNote integration.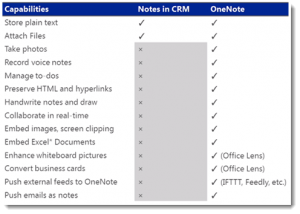 So how cool is that! The team can now capture hand-written drawings, record voice notes, manage to-do lists, and embed excel documents all within an Account, Article, Lead, Opportunity, Product or Quote record. These are the default entities that OneNote integration can be enabled against, but you can add others.
A few other notable features of this new functionality:
Uses the native CRM Security Model for access
Allows for version history
Search looks at not just the note title, but the content of the note
Each record has its own independent, multiple section and multipage notebook
Can use OneNote online or open notebooks on Desktop OneNote
As of the initial release of this feature, OneNote Integration will only be possible in an Online, SharePoint enabled configuration of Microsoft Dynamics CRM 2015.
You must first setup SharePoint integration, or Document Management, for each entity that you want to use OneNote documents for. Once this is setup, you next go into the OneNote integration settings and enable OneNote for those entities. Once OneNote integration is configured, a new tab will show up in the records Social Pane.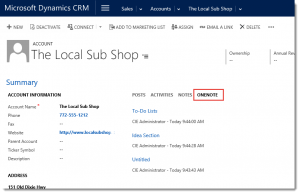 By default the notebook will be created with an untitled tab. To open the notebook, click on the section link on the OneNote tab of the records social pane. This will open the notebook in OneNote Online but will also give you an option to open in desktop OneNote. In addition to being able to use OneNote in CRM at your desk, OneNote in CRM is also available for Tablets and Phones so that you can work with your team while you are out of the office.
This is an overview of just one of the exciting features that Update 1 is bringing to Microsoft Dynamics CRM. Look for my next post where I will go through setting up OneNote integration step by step.
Beringer Associates, a Microsoft Gold Certified Partner, is here to support all of your CRM technology questions and issues. Please contact us with any questions you may have.