Microsoft Dynamics CRM 2016 has arrived!  Myriad functionality has been packaged with the latest version of the CRM platform, but the most exciting feature for me is Interactive Dashboards.  Originally designed to be an interactive dashboard for customer service in CRM, I believe Microsoft realized the potential of this feature and expanded upon it.  Now the interactive dashboard allows us to leverage data from accounts and contacts alike as well as many other entities in CRM.  Read on below to see how the new feature makes accessing data all the more easier.
When you open the interactive hub, Tier 1 Dashboard is the first thing you see.  Clicking the arrow shows various dashboards, both default and created by users.  Let's have a look at the Account Interactive Dashboard (Demo) that I created last week!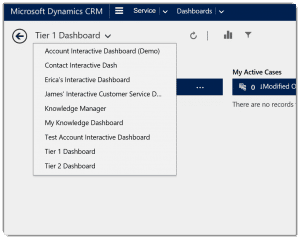 Below we can see Account Summary View and Active Accounts containing information.  CRM users will recognize these are views within the Account entity.  Using the interactive dashboard, I can combine these views all onto one page for easy access to my records.  We can navigate through each of these views.  But what about charts? I'm glad you asked: look at the red arrow pointing to three vertical bars.  We click that and…

Look at that!  Now we have visuals to accompany our views.  I can see how many accounts an owner has created, how many accounts are in a territory, the industry type and more.

By changing the display, I can look at my views in a different way.  I've added all these views to the dashboard to demonstrate just how much information you can leverage all at once!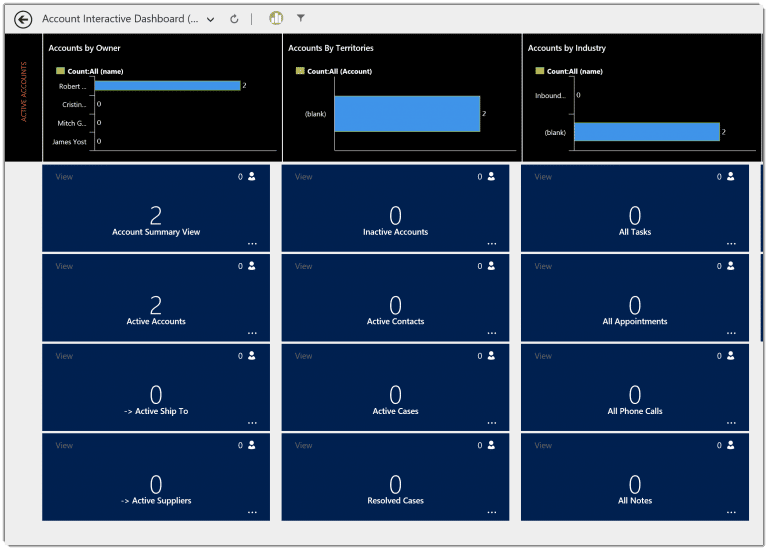 Let's wrap this up by having a look at the accounts we can see from the views.  Look below to see a sample account.  The red arrow points to where a user can click and cycle through all the accounts available in this view.
Here at Beringer, we love the opportunity to tailor Interactive Dashboards to the specific needs of our clients. Microsoft really created something special with Interactive Dashboards in CRM 2016.  Using this new feature, users can leverage data in a quick and efficient manner.  I know I speak for my fellow developers when I say how excited I am to take advantage of this great new feature.
Beringer Associates is always here to provide expert knowledge on topics like these. Please contact us with any questions you may have.