A new feature of Microsoft Dynamics CRM 2015 is Server-Side Sync for sending and receiving emails. Why is this great news? No more CRM email router to contend with which saves a server and administration time.
To enable Server-Side Sync, one needs to update the CRM server settings and change the users' outgoing and incoming email routing to use Serve-Side Sync. There's a bit more to it than that and you can find more implementation information here.
In this article, I'd like to focus on an issue many CRM administrators face when setting up Server-Side Sync.
If you're like most CRM users, you only have email travelling one way in CRM and that is outgoing. So when setting up your Server-Side Sync, Outgoing Email is set to "Server-Side Sync" and Incoming Email is set to "None."

After making your changes to the mailboxes, you approve the emails and click the "Test & Enable Mailbox" button. But nothing happens. The Outgoing and Incoming email status still says "Not Run". If you open the mailbox itself, you'll see a message at the top stating "The email configuration test is scheduled". But it never runs.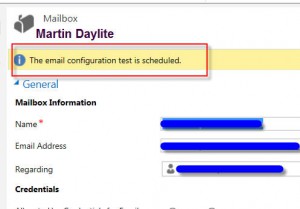 Here's how to address this.
Set your Incoming Email to "Server-Side Sync"

Approve your mailboxes
Test & Enable your mailboxes
Once the Incoming and Outgoing Status is changed to "Success", change your Incoming Email back to "None"
Test & Enable your mailboxes again
This is a workaround approved with Microsoft support until this issue is fixed in the near future.
Please contact Beringer, a Microsoft Gold Certified Partner, to help you with issues like these.