In early November Microsoft released Outlook Customer Manager, a light CRM solution for Outlook. It is available to customers who subscribe to Office 365 Business Premium initially. The primary record types include Companies, Contacts, Deals and Activities. Deals are sales opportunities allowing you to track potential revenue.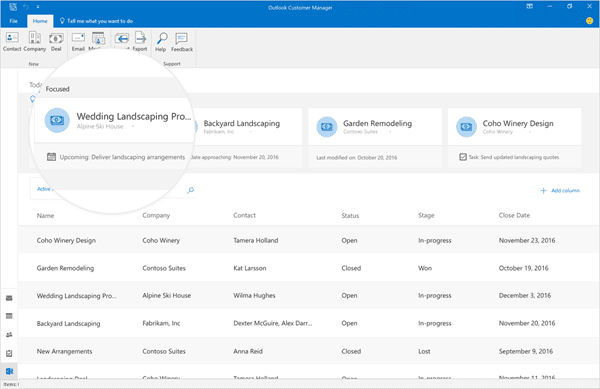 A key capability of Outlook Customer Manager is the ability to collaborate with other team members, something that Outlook has not traditionally done well in the past.
Outlook Customer Manager will also be mobile enabled with the initial release offered for iPhone and other mobile platforms to follow.
Microsoft released a good overview video that highlights the capabilities from a high level.
Where does Outlook Customer Manager fit in the Market? Think small... for single users or very small teams this may be a viable solution. There is no marketing automation or customer service functionality, however there is some automation built in as well as artificial intelligence. While there is "deal management" true pipeline management is not a capability of Outlook Customer Manager. Oh and did I mention it is free? Well free like a puppy as you have to subscribe to Office 365 to get this solution.
The information related to a company or contact such as contact info., deals, open tasks, future actions and automated reminders is all surfaced right in your inbox. Outlook Customer Manager helps you stay on top of opportunities and commitments by surfacing timely reminders, letting you associate tasks with a contact, company or deal, and listing deals by stage, close dates, priority and amount. To help you prioritize your time, the system automatically presents a focused list of your most important customers and deals.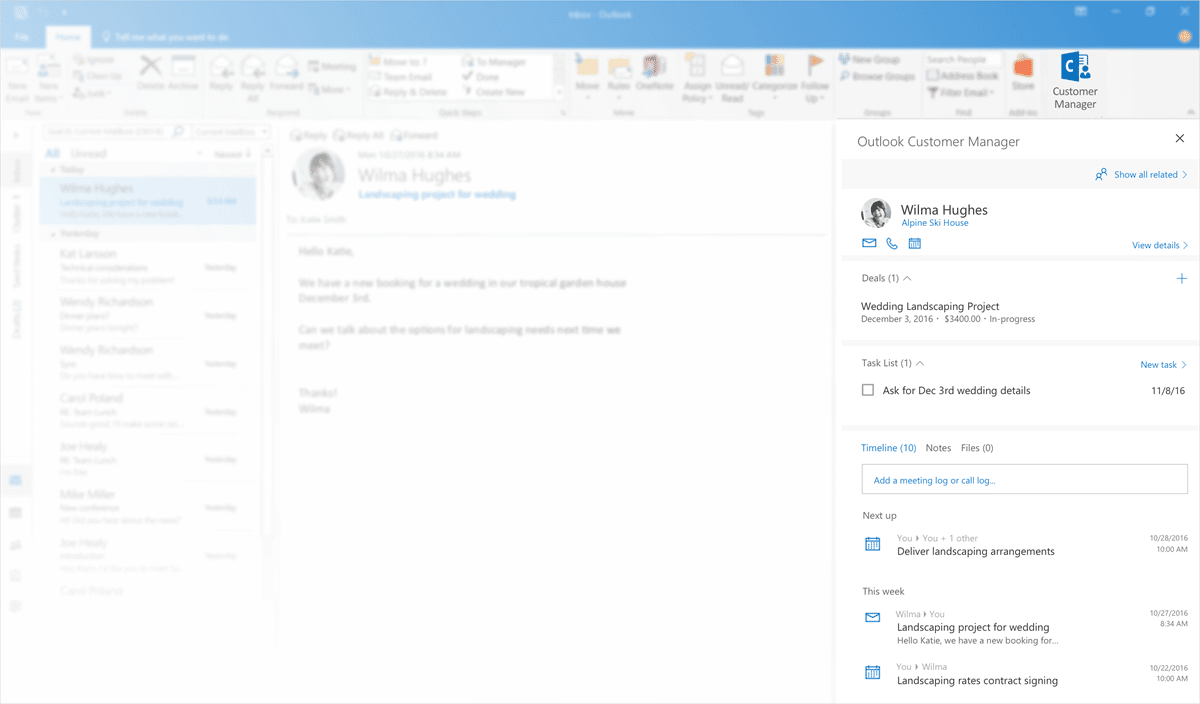 Like any technology, sales tools need to be fully evaluated to assure success. A company first needs to examine their business process and identify what their specific needs are. Until this critical step is done you cannot evaluate technology as you wouldn't have a baseline of needs or requirements to evaluate against. A mistake many businesses make is buying on features they see in a solution only to find out that the solution does not support how they do business. Furthermore a lot of small businesses assume that they only need a simple solution. While that may be true in regards to certain areas, it is not in other areas. For example let's take a small manufacturer. This type of company may do a combination of direct sales and sales through distributors. How should you separate these two channels in the sales system? Do you need to associate end consumers with distributors that service them? A good way to evaluate how your data needs to be structured is to look at how the ERP or accounting software is structuring.
If you would like more information on Outlook Customer Manager, Dynamics 365, or if you would like to discuss how Beringer can help you with business requirements and software evaluation, please contact us!