So which is better, the Microsoft Surface Pro 4 or the Apple iPad Pro? For most users it really boils down to usability and price so lets take a look at both.
Below is a comparison of each devices features and specs. The bold items indicating the winner of that individual feature or spec: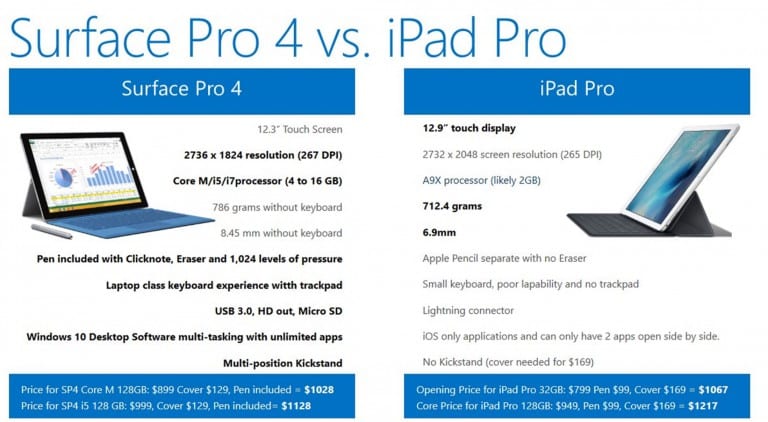 Lets talk usability -
The major usability features clearly go to the Surface Pro 4 with a higher resolution display, a faster processor, much more memory (4 to 16GB ), an included pen, an optional laptop class keyboard with a trackpad, USB to support external devices, high definition output and a kickstand to work in multiple positions. If that's not enough to convince you, think of that fact that the Surface Pro 4 runs Windows applications and allows for multi-tasking where the iPad Pro only runs iOS applications and has limited multi-tasking options.
Lets talk Price -
Not only is the Surface Pro 4 more usable and have better features than the iPad Pro, its the cheapest of the two.
Conclusion - 
The clear winner is the Surface Pro 4.
Beringer Associates is an Authorized Microsoft Surface Device Re-Seller. Contact us at 800.796.4854 to order yours today!