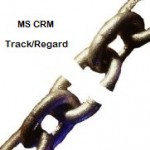 In the past few months, I have spoken with a handful of customers who were asking for support on tracking and regarding issues. CRM in Outlook was installed and connected. Users would click on track and at the bottom of the email saw "This email will be tracked in CRM" and clicked regard, but the email was not linked to the selected record, even after a few minutes. At first, we thought this was due to a problem with exchange online, but operational issues were resolved and still the tracking and regarding process would not complete.
After opening a ticket with MS support (both were online customers) and doing extensive testing, I found a few details that sorted out the problem.
First – the note at the bottom of the email "This email WILL BE tracked in CRM" indicates that it is not yet tracked, because the Outlook client has not connected with CRM to do so.
Second – the affected user was configured with CRM in Outlook, but the mailbox in CRM was set to use "Server Side Sync" not "Microsoft Dynamics CRM in Outlook".
After several rounds of testing with different users, both on their own system and on test systems, and with the help of MS support, we discovered the problem. If a CRM user needs to be able to track and regard emails to CRM, then his/her CRM mailbox under the CRM email configuration must have all three drops downs set to "Microsoft Dynamics CRM for Outlook".

If the user tries to track/regard and the settings are incorrect in email configuration, the process will not complete and the email will remain stuck between tracked or regarded, and not. To fix this and correctly have tracking and regarding succeed, the solution is to first correct the settings in email configuration, and then remove the regarded record value and untrack the record. Then, track the record and regard again.
Also, note that when email is tracked to CRM, it will be listed as an activity against the contact record of the sender, and not against the CRM user. This detail was causing users to think that tracking was failing, and it was in fact working normally, they were just looking in the wrong place.
Beringer Associates is always here to provide expert knowledge in topics like these. Please contact us with any questions you may have.