Dynamics 365 2020 Release Wave 1 Sales Features
Microsoft debuted its upcoming Dynamics 365 2020 Wave 1 release notes but in response to COVID-19, has pushed back the release date from April to May. In each release, Microsoft aims for streamlined user experiences, process improvement, and mobile-friendly designs to continue to meet the demands of evolving businesses. There are many exciting updates and features to implement in your current work processes and our team highlighted a few as it pertains to Dynamics 365 Sales.
Forecasting Models
Microsoft enhanced forecasting features to give users the ability to customize forecasting models. Your organization can build models specific to your business instead of a broader approach. Business leaders can take advantage of the user-friendly interface and accurately plan strategic initiatives. For example, users can create a forecast model based on a sales territory or reporting hierarchy. You are able to revert back to previous iterations of the model, view a history of adjustments, and take a deeper look at the "why" behind the records that feed the data. Manage your sales quota in the forecast grid or utilize an Excel template to upload sales quotas for forecasting time periods, build more advanced queries and filters, and control security access to the forecasting model.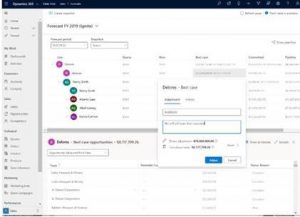 View the details of the record hierarchies and structure that feed into the forecasting model with the Kanban tiles. Make changes in near real- time through the easy drag and drop of the tiles.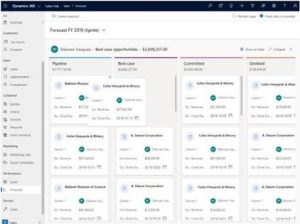 Opportunities
Another great feature is on Opportunities, users can now switch between the grid and a Kanban view similar to the forecasting model. These tiles provide a new way to visualize the opportunity pipeline by a particular sales path. Your sales team can move opportunities to new stages with a simple drag and drop of the tile. The improved streamlined view provides users with an interactive and speedy way to engage in the sales process. As new opportunities get added and progress, users can manage their pipelines from a single view. When users see their data working for them, your organization increases user adoption, and can rely upon accurate analytics for long term forecasting and prediction modeling.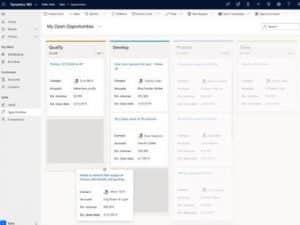 Email Templates
Closing the next sales opportunity is tied to strategic and well timed communication. Microsoft's latest email templates will help your sales teams increase productivity by utilizing the template options and standardize messaging throughout the organization. Your sales team can save time by creating content and language used in common scenarios and basic follow up emails. They can scroll to view the most relevant template, preview the email content, and organize the templates by categories. Once a template is selected, use minimal customization to tailor the message to your customer. This allows sales teams to use the additional time for goal planning, strategic initiatives, and focused relationship building with customers.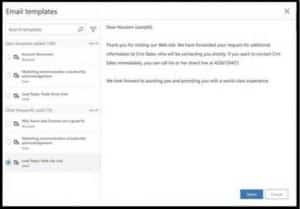 Stay tuned for more exciting features in Microsoft's planned Wave 1 release at the end of May and check out our recent Tidbit Tuesday Webinar for a great overview of additional features.
Beringer Technology Group is always here to provide expert knowledge in topics like these. We hope you found this highlight of Wave 1 features helpful! If you have any other questions, contact us today to learn more!
Beringer Technology Group, a leading Microsoft Gold Certified Partner specializing in Microsoft Dynamics 365 and CRM for Distribution. We also provide expert Managed IT Services, Backup and Disaster Recovery, Cloud Based Computing and Unified Communication Solutions.