An issue that came up for many clients with the Dynamics 365 2021 Wave 2 update is when viewing related records on a parent entity's record, the related entity's header menu does not move when scrolling but disappears as you move down the page. Also, the alphabetical search at the bottom doesn't appear until you scroll all the way down. The below screenshot shows how it used to appear.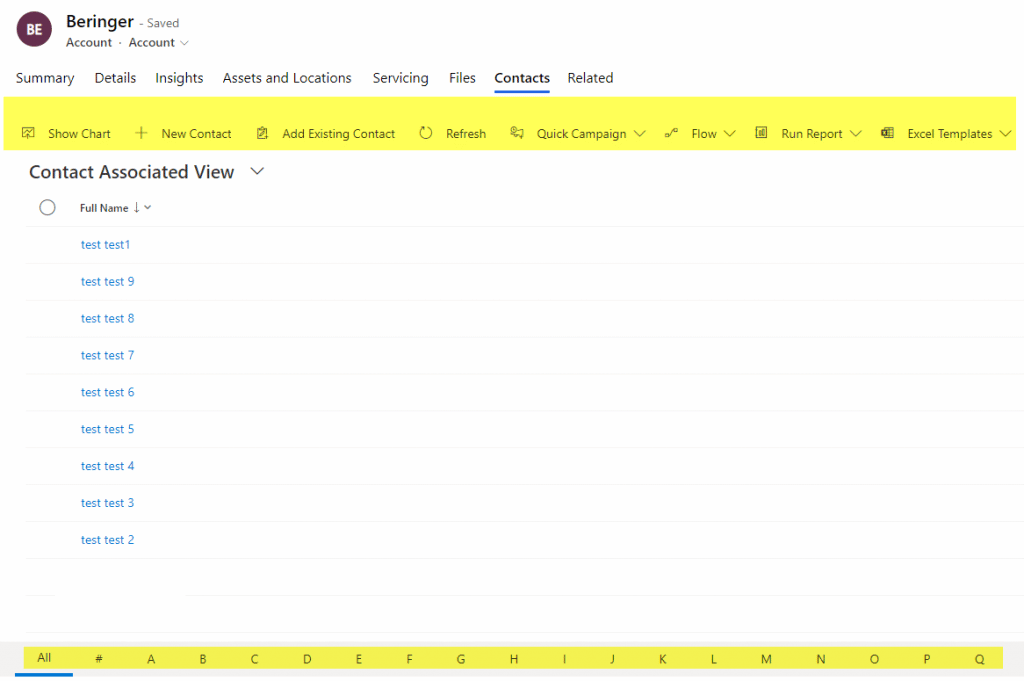 To get this to work again navigate into the related records entity and adjust the Controls. The instructions below are step by step on how to get this to work again.
Go into Settings > Customizations > Customize the System
Select the Related Entity you want this to work for.
Next, select the Controls tab then select "Add Control" 4.  Then, select the "Power Apps Grid" control and click "Add" 5. Select the Controls for where you want this to show then select the edit button next to "Jump Bar" 6. Change Disabled to Enable and Click On Save and Publish the changes.
Is your team facing the issue where Dynamics 365 header options disappear? Our team can assist with the new Wave 2 changes and all things Dynamics 365. Call us today for more information.
Beringer Technology Group, a leading Microsoft Gold Certified Partner specializing in Microsoft Dynamics 365 and CRM for Distribution also provides expert Managed IT Services, Backup and Disaster Recovery, Cloud Based Computing, Email Security Implementation and Training, Unified Communication Solutions, and Cybersecurity Risk Assessment.