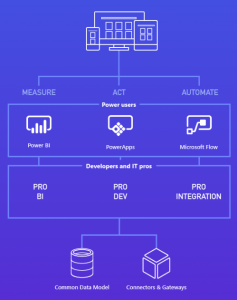 As a lifelong developer, I've always appreciated the extensibility that Microsoft provides with their applications. They've always been big on providing you ways to customize their products, as well as offering an API to allow developers to connect and automate. The newest Microsoft Business Application Platform is no different, delivering an experience to build and extend modern applications much faster than ever.
The Microsoft Business Application Platform caters to the power users who understand your business challenges to build and deliver solutions without writing any code. It also provides the extensibility for developers to build custom connectors and gateways so you can query data that was once out of reach. This platform offers three distinct apps:  Flow, Power BI and Power Apps.
Flow
Flow is an app that allows you to automate your workflows. You can utilize it to build solutions that automate process across disparate apps and services. It can also streamline notifications and sync data between systems. Check out how I utilized Flow to connect Microsoft Dynamics CRM and Twitter here.
Power BI
Power BI is an app that gives insights to your other apps. It can help you monitor your business, and answer questions by providing analytics and visualizations of your data.
See how you can quickly connect it to Microsoft Dynamics CRM here.
Power Apps
Power Apps is an app that allows you to create rich user experiences for almost any mobile device. Sometimes the native interface provides too many options for a specific task, and building a purpose-built app can help keep your team in line.
Check out this purpose-built app I created to help CRMFD Sales Reps rank their customers.
Dynamics 365
These apps will also be part of the new Dynamics 365 platform, which unifies Microsoft CRM and ERP capabilities into a seamless experience. If you are currently a Dynamics customer, or thinking about migrating to the cloud, then check out the first look here.
We love to customize Microsoft Dynamics CRM solutions here at Beringer. We've been working with Microsoft Dynamics CRM since its inception.  We're always finding innovative ways to implement the latest tools and help automate business processes. If you are looking for a CRM solution partner to help you with your CRM installation, make sure you pick the one that practices all of the Microsoft methodologies and best practices.
Are you fully utilizing your CRM implementation? Please feel free to contact us and see how we can help improve user adoption and productivity.