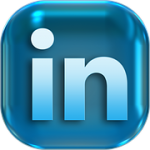 Like most of you, I get a ton of "I'd like to connect" traffic. Sure, you hang your digital shingle out there and folks will sometimes throw snowballs at it. I am just not sure if I should accept these invitations from strangers with no 3rd or 2nd connections, let alone 1st connects. Just - "hey there!! let's connect!!" from all kinds of people selling anything, trying to meet the 500-connection goal (that LinkedIn would have us all embrace...) in competing industries, from polar opposite industries, from all over the place. It's like meeting strange people in dark cyber-alleys  can be slightly off-putting and disconcerting and will blow up your inbox in no time.
BUT - I do get linked to some pretty smart and useful people. Yes - networking is using for gain. These valued links are avenues to many mutual beneficial things in business. Connection is key to development of relationships and growth in business.
As a networking example, I got connected with a great opportunity in the construction industry looking for network support from the CEO of an Office 365 customer that uses that guy for landscaping. Recent LinkedIn equivalent is a conversation I had with a healthcare practice management advisor that has a slew of Docs and healthcare providers that had no firm grasp on their own IT needs and, as a 23-year old IT provider and HIPAA compliance experts, we fill that gap perfectly. A guy I work with uses this as an intelligence tool (via their connections) to see competition and opportunity there. The Office 365 conversation alone is a huge connection - join a couple of groups and you'll see. (See what I did there? I said join groups - not stalk the members...) That Office 365 thing is taking off big time and we have lots of prospects and clients that are garnered through networking. And of course - Good Work Leads To More Work.
This sounds like a LinkedIn pitch but it's not. Here at Beringer, we specialize in Microsoft Dynamics CRM, Managed IT Services and VoIP. If you know someone who would like more information on these topics and are in a related field near Philadelphia - let's connect. It's a 2-way street but you have to drive with courtesy. I promise to reciprocate - if I run into someone who needs what you do.