Here is a fix to the following error message with Remote Desktop Connection when you try to connect to a machine from Windows 7:
"Remote session was disconnected because there are no Remote Desktop client access licenses available for this computer. Please contact the server administrator"

The solution is to Delete the following registry key: HKEY_LOCAL_MACHINESOFTWAREMicrosoftMSLicensing. Once this has been deleted try connecting in again. If it doesn't work and you get the following error message:
"The remote computer disconnected the session because of an error in the licensing protocol"
Then all you need to do is Right-Click on the Remote Desktop Connection icon and select "Run as Administrator."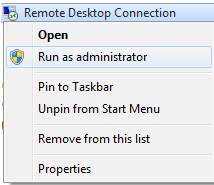 Beringer Technology Group, a Microsoft Gold Certified Partner, is always here to provide expert knowledge in topics like these. Contact us with any questions you may have.