CRM for Distribution allows you to combine ERP sales data inside of your CRM system, available for your sales team to access on demand making that data actionable from a Sales, Marketing and Customer Service perspective. Imagine how much more powerful your Account Management experience can be with this data at your fingertips. Let's take a look at what is included in the Sales History section of an Account in CRM for Distribution.
Sales History data is available to be viewed in a number of different time periods:
Calendar Month to Date
Fiscal Year to Date
Fiscal Last Year to Date
Rolling 1-12 Months
Rolling 13-24 Months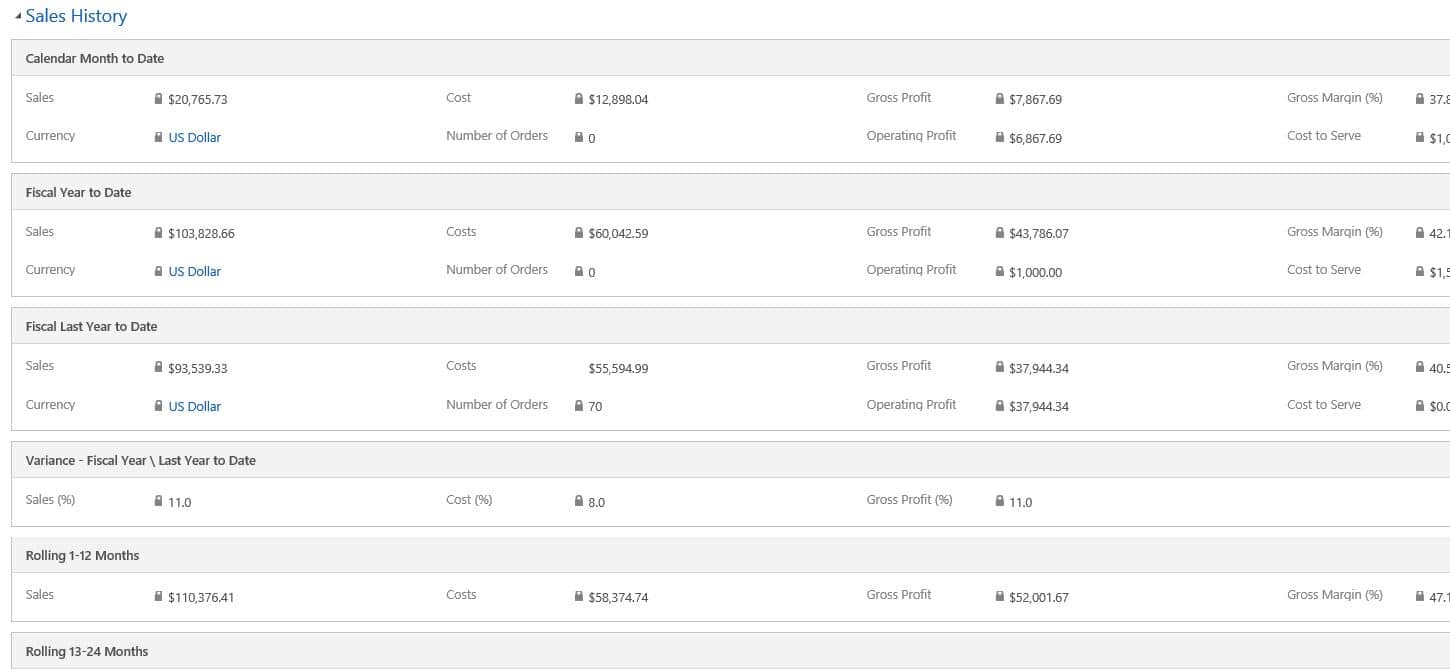 In each of these time periods, CRM for Distribution will aggregate all Sales for this Account (coming over from your ERP system) and provide the following metrics in CRM on the Account Form:
Sales
Cost
Gross Profit
Gross Margin (%)
Currency
Number of Orders
Operating Profit
Cost to Serve
Not only does Sales History provide these metrics for each of the above mentioned periods of time, but it also provides two variance sections. Check out the Variance - Fiscal Year/Last Year to Date to quickly see if this account is up or down year over year and by which percentage. This section shows Sales % increase or decrease, Cost % increase or decrease and Gross Profit % increase or decrease.
To have an even more in depth look at a larger period of time to understand greater sales history trends, look at the Variance - Rolling 1-12/Rolling 13-24 Months. This section shows Sales % increase or decrease, Cost % increase or decrease and Gross Profit % increase or decrease over this longer time period.
Finally, the last box in the Sales history section shows Open Order Value, Open Order Total Value and a time and date stamp of the last time this data was updated in CRM. In general, Sales History data and calculations are updated daily overnight.
CRM for Distribution
CRM for Distribution is a very powerful tool for manufacturers and distributors. It is easily installed into your current Dynamics 365 instance. Your users don't have to navigate to a different program to use the added features that CRM for Distribution provides. Everything resides directly within Dynamics 365 in entities that your users are already familiar with and use on a daily basis.
Contact Us!
If you're interested in learning more about CRM for Distribution, please contact us today!
Beringer Technology Group, a leading Microsoft Gold Certified Partner specializing in Microsoft Dynamics 365 and CRM for Distribution. We also provide expert Managed IT Services, Backup and Disaster Recovery, Cloud Based Computing and Unified Communication Solutions.