The force to the new Unified Interface is coming soon and with it, many organizations will be deploying this feature for testing. A major issue we have come across is entities are no longer editable that were before the Unified Interface was switched on. Users were trying to create new records but the "New" button was not showing up. No matter what browser we used, we were unable to create new records or update these records.

What we found was since it is now a "Unified" Interface, it displays the same across all devices. The same behavior is on computers as it is on mobile devices and tablets. To fix this issue, we had to go into the entity and change the mobile settings to make it editable again.
To do this, follow the below instructions:
Click into Settings > Customizations > Customize the System
From here, expand the entities tabs and select the entity you are having issues with.
From the entity scroll down to the Mobile Settings section and uncheck "Read-Only" Mobile. Save and Publish.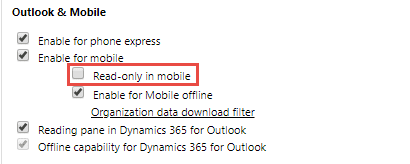 Once this is done, users will be able to create/update records once again with no issues.

Contact Us!
Beringer Technology Group is always here to provide expert knowledge in topics like these. Contact us today with any questions you may have.
Beringer Technology Group, a leading Microsoft Gold Certified Partner specializing in Microsoft Dynamics 365 and CRM for Distribution. We also provide expert Managed IT Services, Backup and Disaster Recovery, Cloud Based Computing and Unified Communication Solutions.