Configuring a Power Page site (formerly called a "Power Portal," or "portal" for short) can be difficult, even for those who are experienced in Power Platform configuration.  While a Power Page site is considered an individual, separate app (similar to the way model-driven apps and canvas apps are separate apps from one another), a builder will commonly use two different interfaces for configuration: the Power Page design studio and the Portal Management model-driven app.
It is important to note that, as of the time of this writing, Microsoft is in the middle of its transition from Power Portals to Power Pages, and some outdated terminology may still be present in the Power Platform and Microsoft documentation.
Power Page configuration data
Power Page site configuration data is stored in the Dataverse as records.  When a new site is created, the system creates the numerous solutions, tables, and associated records automatically.  These records can be edited by a builder via the Power Page design studio or the Portal Management model-driven app.
Because Power Page site configurations are stored as data, solution-based deployment is not available.  Microsoft provides documentation here that discusses the options for deploying site configurations across environments.
Power Page design studio
The Power Page design studio can be accessed at https://make.powerpages.microsoft.com (https://make.gov.powerpages.microsoft.us for GCC tenants).  Similar to Power Apps and Power Automate, you'll be able to choose the environment in the upper right-hand corner of the screen after logging in.  Once you are in the correct environment, you'll be able to either create a new Power Page site or edit an existing one.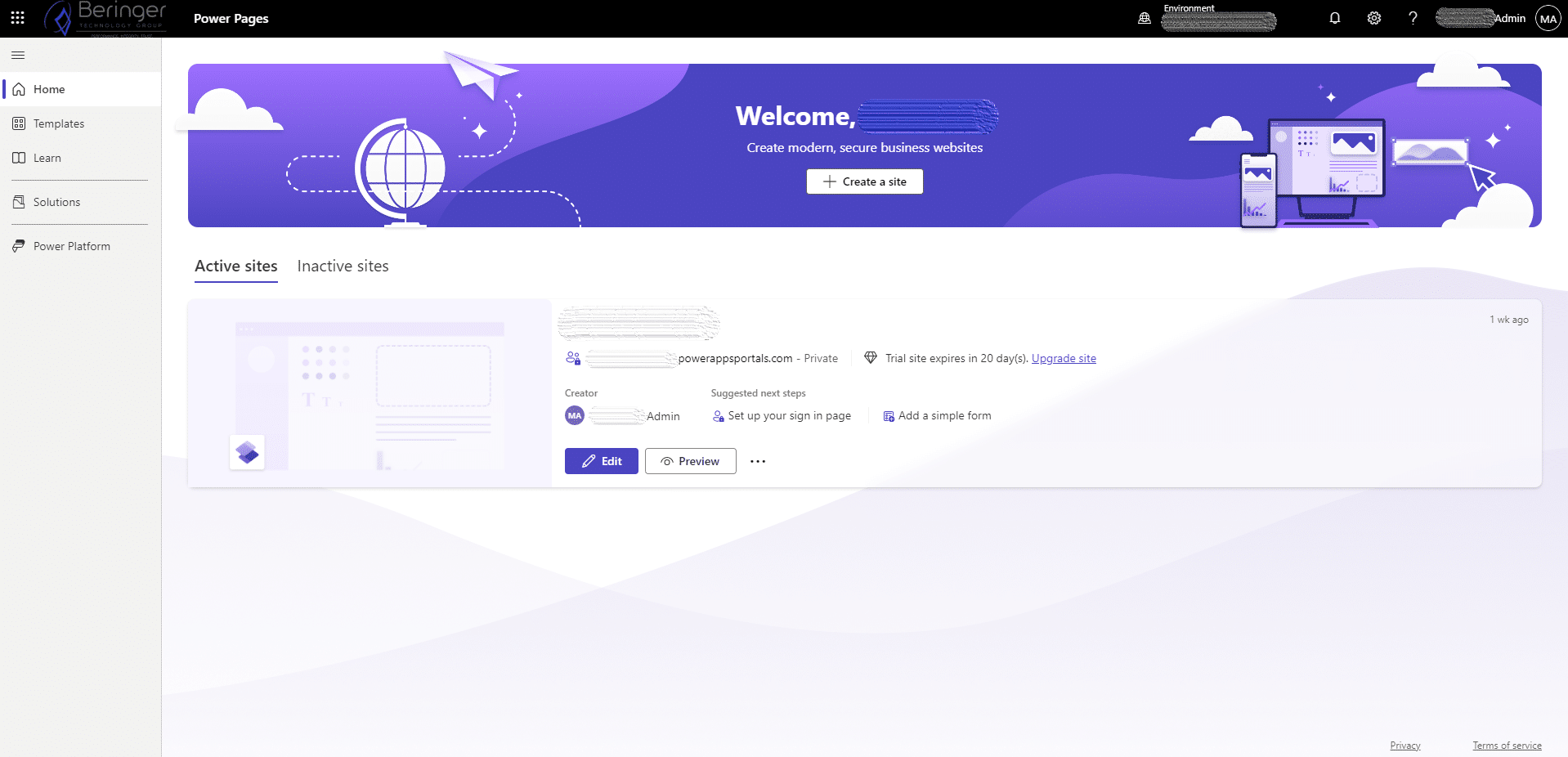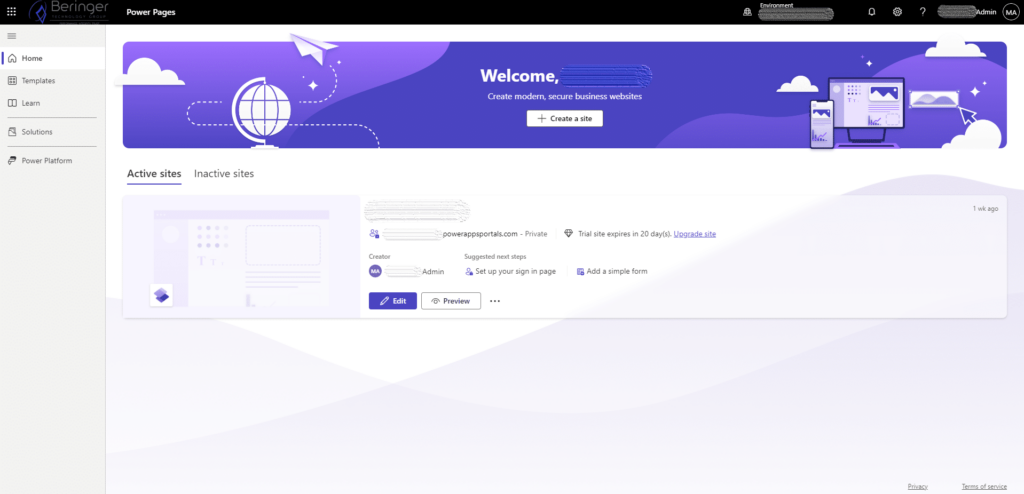 The design studio provides a builder with a basic WYSIWYG editor for a Power Page site.  It can assist you in selecting a site's style (theme, colors, etc.), setting up table permissions, and even modifying related Dataverse data (tables, forms, and views) without having to switch to Power Apps.  Each time you make a change in the design studio, the related configuration data in the Dataverse is updated automatically.  A good way to think of the design studio is that it allows a builder to edit the "basic" settings of a site.
Portal Management model-driven app
The Portal Management model-driven app provides a way to access the Power Page site's configuration data directly in Dataverse.  All of a sites "advanced" settings live here, including the ability to update form metadata records, control site authentication options at a deeper level, and edit discreet components of content snippets.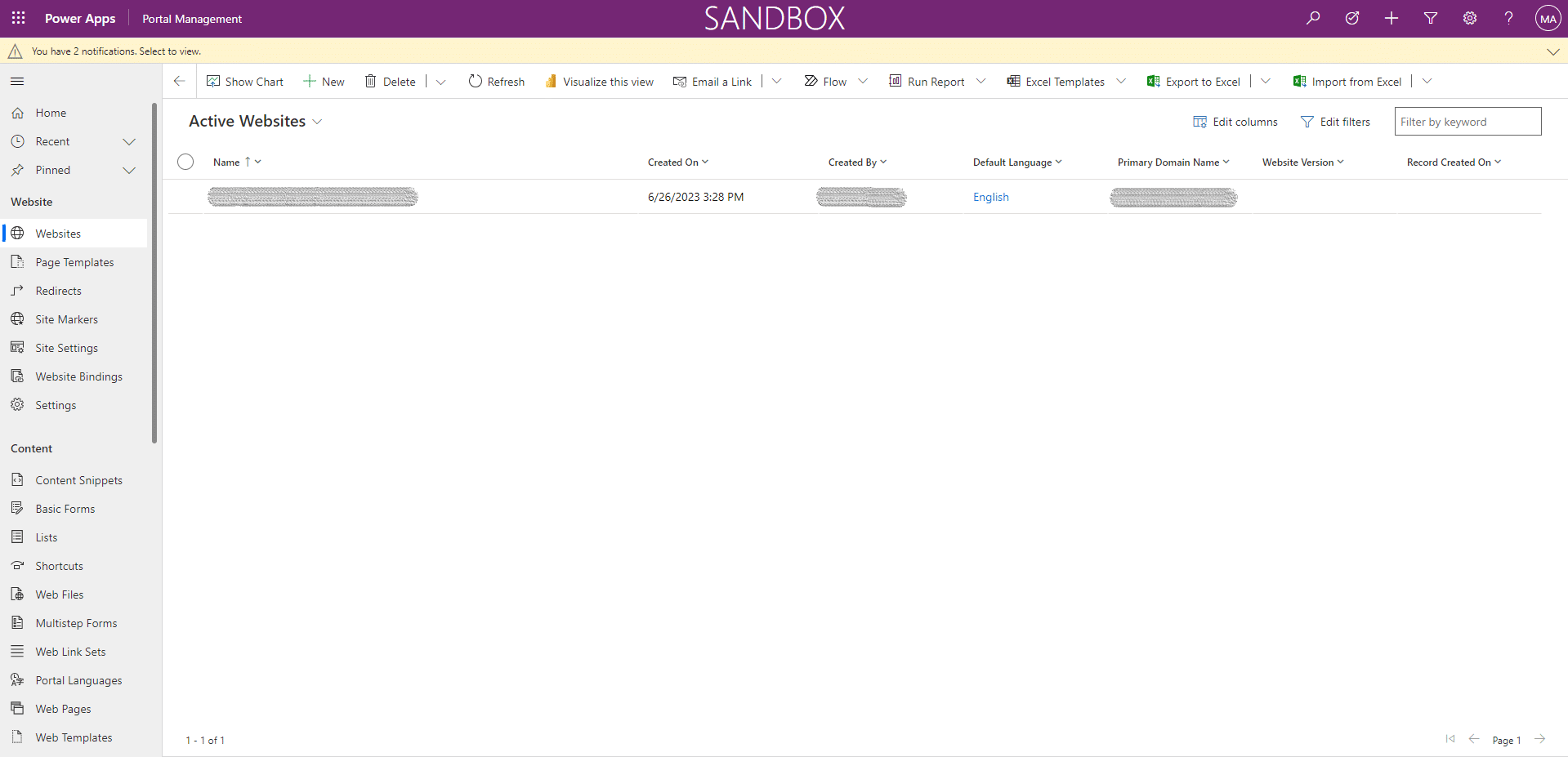 The Portal Management model-driven app is created automatically whenever a new Power Page site is created in an environment and gives a builder a "front-end" into advanced and powerful site configuration.
It is critical to perform frequent backups of Power Page site configurations as changes to the configuration amount to changes in Dataverse data: configuration changes are immediate and are irreversible in the event they are deleted.
We love to implement Microsoft Dynamics 365 and Power Platform functionality here at Beringer.  We've been working with Microsoft Dynamics since its inception, and we're always finding innovative ways to implement the latest tools and help automate business processes.
Beringer Technology Group, a leading Microsoft Partner specializing in Microsoft Dynamics 365 and CRM for Distribution also provides expert Managed IT Services, Backup and Disaster Recovery, Cloud Based Computing, Email Security Implementation and Training,  Unified Communication Solutions, and Cybersecurity Risk Assessment.