Outlook maintains a record of regularly used email addresses. When setup correctly, the Auto-Complete feature will suggest contacts for your newly created email. Typing just a few letters of a previously used email address should populate over time. If you are not receiving recommendations, the feature may not be enabled. The steps for enabling the Outlook Auto-Complete feature are below (assuming Outlook 2016 is being used).
To enable Outlook Auto-Complete Within Outlook:
Go to File Menu and Click Options
Click on Mail Tab
Scroll down to Send Messages

Verify that Use Auto Complete list to suggest Names is clicked off as a selection
Outlook 2016 will maintain an address limit of 1000 entries. Outlook uses an internal algorithm after this limit has been reached and will selectively determine the best names to remove from this list. This could become an issue if the choices from the auto list populate and are incorrect or are not sending correctly. You may simply click the X symbol to the right of the auto suggested name and then manually type the email address in to correct the condition
In some cases, the entire cache of retained auto-name addresses could become corrupt over time. To clear this cache, simply do the following listed below.
Go to File Menu and Click Options
Click on Mail Tab
Scroll down to Send Messages
Empty Auto Complete List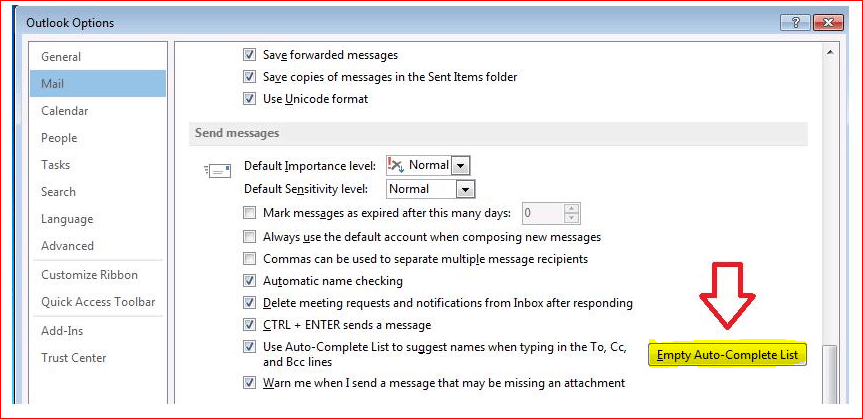 The auto list should begin re-cataloging addresses.
I hope you found this tip helpful! Beringer Technology Group is always here to provide expert knowledge in topics like these. Contact us with any questions you may have.
Beringer Technology Group, a leading Microsoft Gold Certified Partner specializing in Microsoft Dynamics 365 and CRM for Distribution. We also provide expert Managed IT Services, Backup and Disaster Recovery, Cloud Based Computing and Unified Communication Solutions.