At Beringer Technology Group we work with our customers to understand backup and disaster recovery needs and then recommend the best possible solution. One of the products we recommend across our customer base are Datto backup and recovery devices. Datto's products have many great features including the ability to run backups to the device and then to a cloud-based repository.
One of the other useful features of the Datto devices is the ability to spin up an image of a device from a previous backup – whether last week or from an hour ago. This can be used both as a "stand in" for a crashed server, or for selectively restoring specific files from previous backups. This feature is phenomenal on its own, but it has another purpose that comes in very handy when preparing for a significant upgrade, such as a new SQL version.
We can temporarily spin up a copy of our production server and run the upgrade process to see what happens when running a software installer. I recently used the environment to begin preparations for upgrading to a new SQL version on an existing server. Due to the potential downtime, if the upgrade went sideways I did not want to simply run the upgrade and "hope for the best". I know that there are often issues to be addressed or prerequisites to be installed, before the actual upgrade can be applied. It's a database after all, so an upgrade should be a precise, lengthy process.
I recently spun up a copy of our production database server from its last backup and ran the SQL updater. It pointed out some issues with our data, which I reviewed with our team. Nothing to do there. A few days later I did the same process again, and the updater went past the data errors, and showed me that the upgrade could not proceed until SQL SP3 was installed. This required a planned outage to install and testing for several weeks. The process will be repeated, and any issues that come up on the virtual server, will be addressed through updates to the production server, until the full upgrade can be successfully completed in this environment. Only then will we inform our users of a planned outage and run the full upgrade against the production system.
The Datto interface is straightforward for setting up the "test server":
First step: choose the server to spin up in the virtual environment: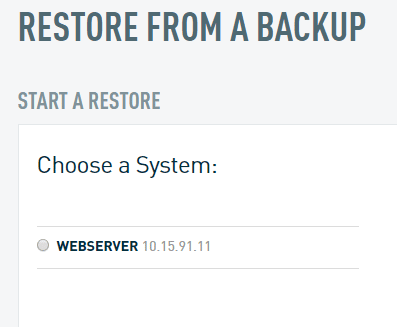 I use the local virtualization option to spin up the server image on the empty space under the BDR.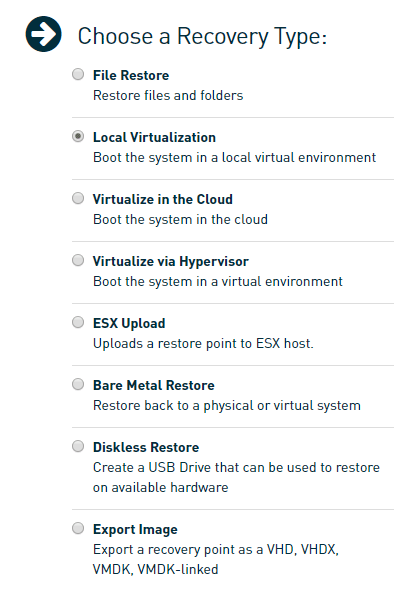 This is local to the network, so it will be faster access and response time versus cloud virtualization.
Next, choose the recovery point to test against.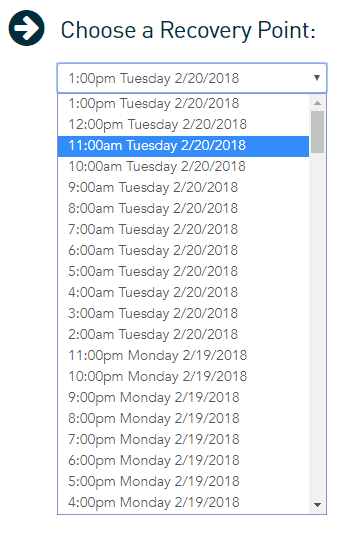 Note that I would use the latest image to do any testing for future upgrades. In the case of testing a "what if" scenario, such as "What if we didn't install the last round of Microsoft updates two weeks ago? Would our accounting software still have errors from a version upgrade applied 2 days ago? When IT folks are asked to diagnose the past, or predict the future, the option for local virtualization of a device can be a powerful tool to include in the technical process.
With the options selected, it will be an easy next step to spin up the server in an isolated network "bubble" and then interact with the server to run through your test plan.
Please note that this is a very simplified version of the process and the success of this depends on many variables, including an error-free backup and a stable server configuration. The team at Beringer Technology Group has deep experience with Datto hardware and its capabilities and would be happy to help you get the most out of your existing Datto device. Contact us today!
Beringer Technology Group, a leading Microsoft Gold Certified Partner specializing in Microsoft Dynamics 365 and CRM for Distribution. We also provide expert Managed IT Services, Backup and Disaster Recovery, Cloud Based Computing and Unified Communication Systems.