Visualize your Dynamics Data
How many years of data have you collected in your Microsoft Dynamics 365 system? If you include data imported from legacy CRM systems, it's not uncommon to hear responses ranging from 10 to 20 years of data.
Is that data JUST lying around and eating up storage space?  Do you feel you are truly getting value from all of that data? If you don't feel like you are, then don't worry because you are not alone 🙂 Microsoft Dynamics provides several tools to help you Visualize your Dynamics data, and experience it in a much more effective manner.
Find Your Data
Microsoft Dynamics CRM provides an intuitive tool that lets you find your data, which is called the Advanced Find. You can use it to filter out any noise, and focus on the data that is important to you.
Report Your Data
Microsoft Dynamics CRM allows you to create reports using an intuitive report wizard. You can use it to view your current data, and archive historical snapshots.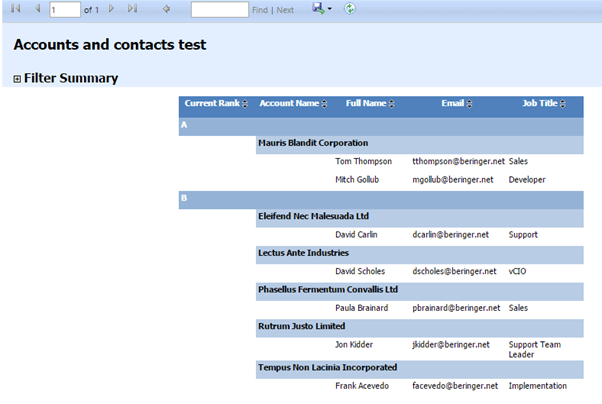 Chart Your Data
Microsoft makes it very easy to create meaningful charts based on the data that you care about. You can add these charts and Advance Finds to a dashboard, and view all of your key metrics on a single screen.
We love to customize  Microsoft Dynamics solutions here at Beringer. We've been working with Microsoft Dynamics 365 since its inception, and we're always finding innovative ways to implement the latest tools and help automate business processes. If you are looking for a Dynamics solution partner to help you with your installation, make sure you pick the one that practices all of the Microsoft methodologies and best practices.
Are you fully utilizing your Microsoft Dynamics 365 implementation? Please feel free to contact us and see how we can help improve user adoption and productivity.