I had the extreme pleasure of presenting at this year's CRM User Group Summit Conference this year. One of my favorite sessions that I spoke about was titled "10 Tremendous User Adoption Tips" where we discussed Dynamics 365 User Adoption.
Organizations of all shapes and sized struggle with user adoption. All too often, new technology is rolled out only to find that people aren't using it. Here are 10 tips I have crafted to help you increase user adoption (in no particular order).
Dynamics 365 User Adoption - Requirements, Customization & Configuration Tips
End users should be involved right from the beginning of your Dynamics 365 deployment (or any other technology for that matter!). Include them when you are in the requirements gathering stage. Discover what would help make their job easier (perhaps through job shadowing and/or ride alongs) and find a way to use technology to solve that issue. Master the delicate act of customizing for your end users while meeting business requirements from management.
Tip #2: K.I.S.S. Principle
Keep your Dynamics 365 system simple! Streamline your business processes, minimize the number of required fields on each of your forms. Keep those forms clean! Show only the most essential fields for each role in your system. Utilize out of the box permission levels and security to show only the necessary fields, forms and/or sections to specific users.
Tip #3: It's All About the Data Quality
Give your users the best data they can have. Use a few out of the box functionalities to ensure improved data quality. Configure tool tips on your fields to help define field name definitions for your end users. If you're doing a new deployment, make sure you spend the time to start with clean data. Only move over relevant data that your users need to see in Dynamics 365.
Tip #4: Who wants to be a Super CRMer?
You can have huge success in user adoption by identifying and empowering a group of CRM users to serve as your organization's champions. Build this team of "super users," "early adopters," "CRM advocates" or "CRM Samurais" (call them whatever you want!) and get them involved in everything from requirements to UAT to training.  If your organization is driven by acknowledgement, consider providing "CRM Champion" certificates and recognize them throughout the company.
Tip #5: Why aren't they using it?
There is most likely a pain point that your users have in their daily job (which is often times NOT in CRM). Your challenge, should you choose to accept it, is to find that pain and use technology (CRM!) to automate it! There are a number of ways to accomplish this:
Job shadow (Customer Service Reps, Inside Sales Reps)
Ride along (Salespeople)
Look for manual Excel reporting they are providing to their manager!
Once you have identified this pain, leverage the technology of Dynamics 365 to solve their issue!
Tip #6: Business Process Flows for the Win!
Business Process Flows allow you to translate your organization's Service & Sales Processes into simple steps for end users to follow. If you don't have a process, work with managers to define one! Use drag & drop functionality to customize your organization's process in a simple, easy-to-follow way.
Tip #7: Internet, Outlook & Mobile, oh my!
Give your users access to Dynamics 365 anywhere! Make sure to offer Outlook, mobile and internet facing deployment. If applicable in your organization, don't be afraid to primarily deploy to mobile - the Dynamics 365 for Phones app has improved immensely over it's younger sibling mobile express. Give your team the ability to access Dynamics 365 data on the road, in the office and online.
Tip #8: Let's play a game with Gamification!
Gamification can work extremely well in a Sales or Service organization. Essentially, gamification is incentivizing your end users to take specific actions within your Dynamics 365 organization. Each action (defined as a KPI in the gamification solution) will accrue points. Points will go towards team competition. To learn more about Gamification, check out this awesome blog.
Dynamics 365 user adoption - End User Training Tips
Tip #9: Vary training techniques to meet all learning styles.
There are many schools of thoughts surrounding learning styles. I like to incorporate the learning styles identified in the VARK model, which I have found to be accurate when looking at corporate training scenarios: Visual, Auditory, Reading & Writing, Kinesthetic.
Here are some examples of training options available to you in each learning style. Combine multiple types for whatever works best in your organization.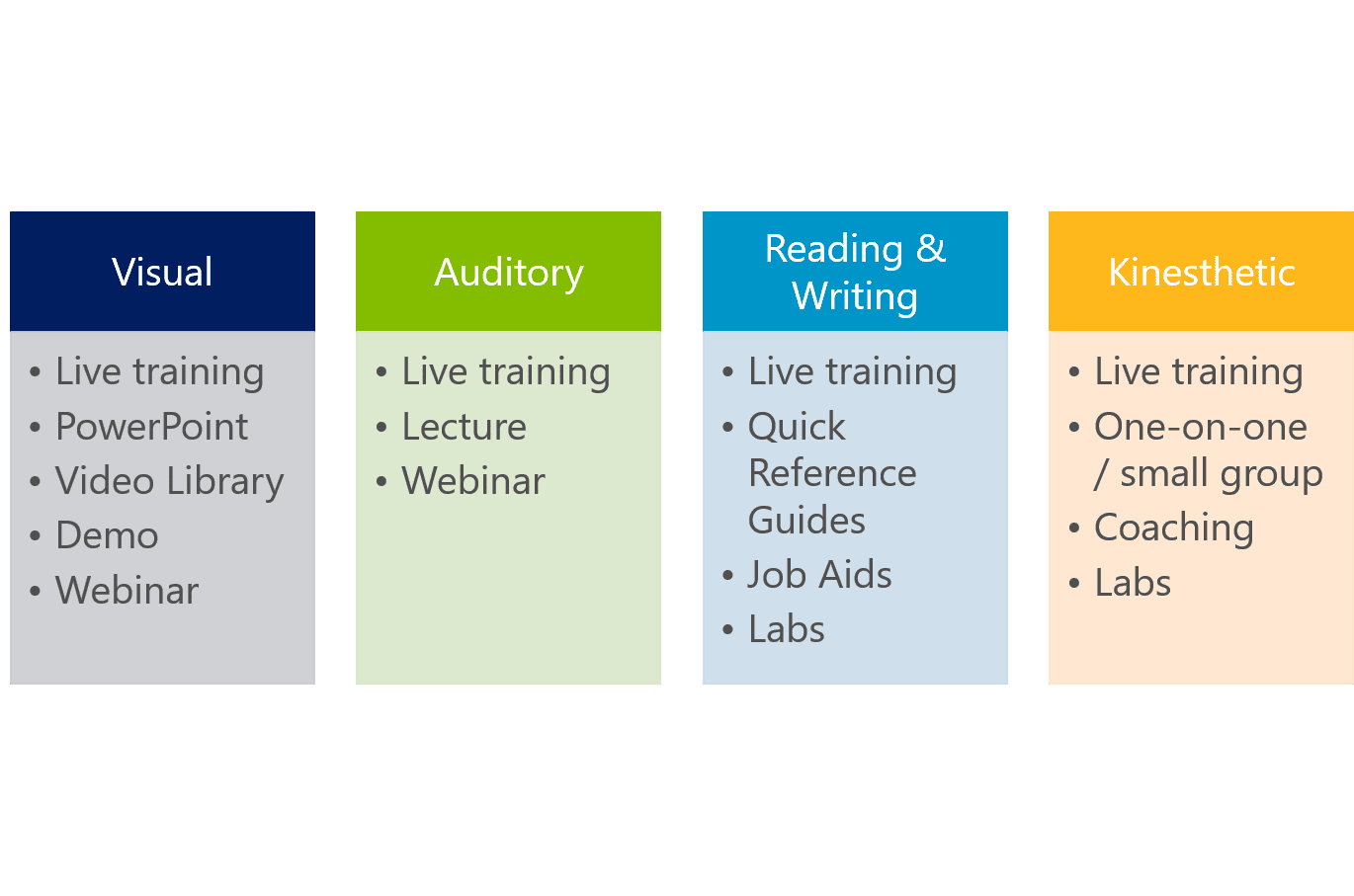 Tip #10: Provide differentiated training for different roles!
When you're planning your end user training, make sure to group users based on their job role. Offer one core training with topics for all users - covering things like navigation, search, views and sorting. Then, offer specific job-related training for different roles within your organization.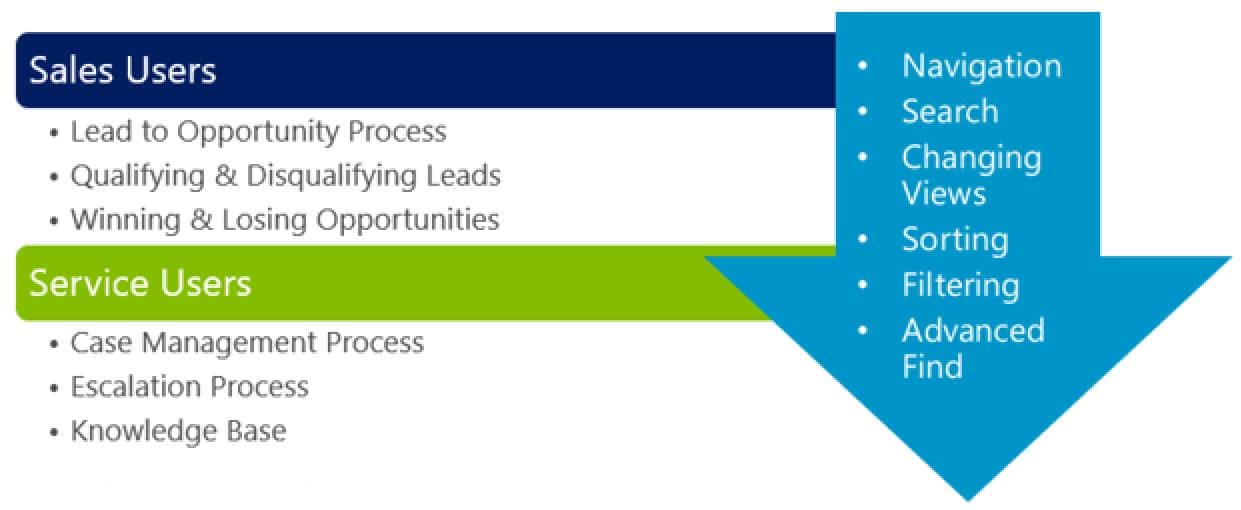 If you have questions please do not hesitate to contact us at 800.796.4854. We can help you with all of your Dynamics 365 needs. Beringer Technology Group is a Microsoft Gold Certified Partner and has proven excellence in Managed IT Services.
Beringer Technology Group, a leading Microsoft Gold Certified Partner specializing in Microsoft Dynamics 365 and CRM for Distribution. We also provide expert Managed IT Services, Backup and Disaster Recovery, Cloud Based Computing and Unified Communication Systems.