Football season is upon us which means that office competition is going to be over the top with pick 'em pools and fantasy teams frenzy! What if you could get that same energy and competitiveness geared towards your Dynamics 365 system? You can by taking your end-user adoption to the next level by enabling Gamification.
Whether you use your D365 system for Sales, Customer service, or both, all of your users can join in the fun.  Your sales and customer service users can compete on an equal playing field by setting up KPIs for each independently.
Customer service can have a KPI for Cases Resolved while Sales can have a KPI for Leads Qualified.  If your organization already has KPIs in place, then even better.  You can use your existing KPIs and assign point values in the Gamification Portal.  If you don't have established KPIs and you need a starting point, no worries!  Gamification comes with some standard KPIs that you can use and build upon.
Once you setup your KPIs, your commissioner logs into the Gamification Portal to set up the game.  You can choose from Fantasy Teams (recommended), Fixed Teams, Individual Competition, or Stream TV. Regardless of game type, you select which KPIs you would like to include in the game and assign point values to each. For example, you can assign 5 points for each Resolved Case.
After your game is setup, you start the game which notifies all of the users involved.  If you choose the recommended Fantasy Team format, users can be setup as available players in different positions or as observers.  This is what makes the Fantasy Team option the best for any organization because you may not have users who can compete as players, but they can still compete by drafting a team of top-notch sales and customer service associates to score the most points and win!
As a company, you can establish and assign prizes for a multitude of categories and places within each category such as Game Point Prizes, Player Position Awards, and KPI Awards (just to name a few!).  When you use the Fantasy Team format, you also get to choose your favorite sports theme.  Whether you're an American Football fan or a Hockey fan you're covered as you can choose from TWELVE different themes.
The portal is a user-friendly interactive dashboard where your users can easily access Leaderboards, Smack Talk, Manage Your Team, and Player Profile for each game.  This is a great way to keep users engaged as well as allowing them to interact with each other.  You can even go as far as having drafting lunches to kick off new games and get all of your users excited and engaged from day one.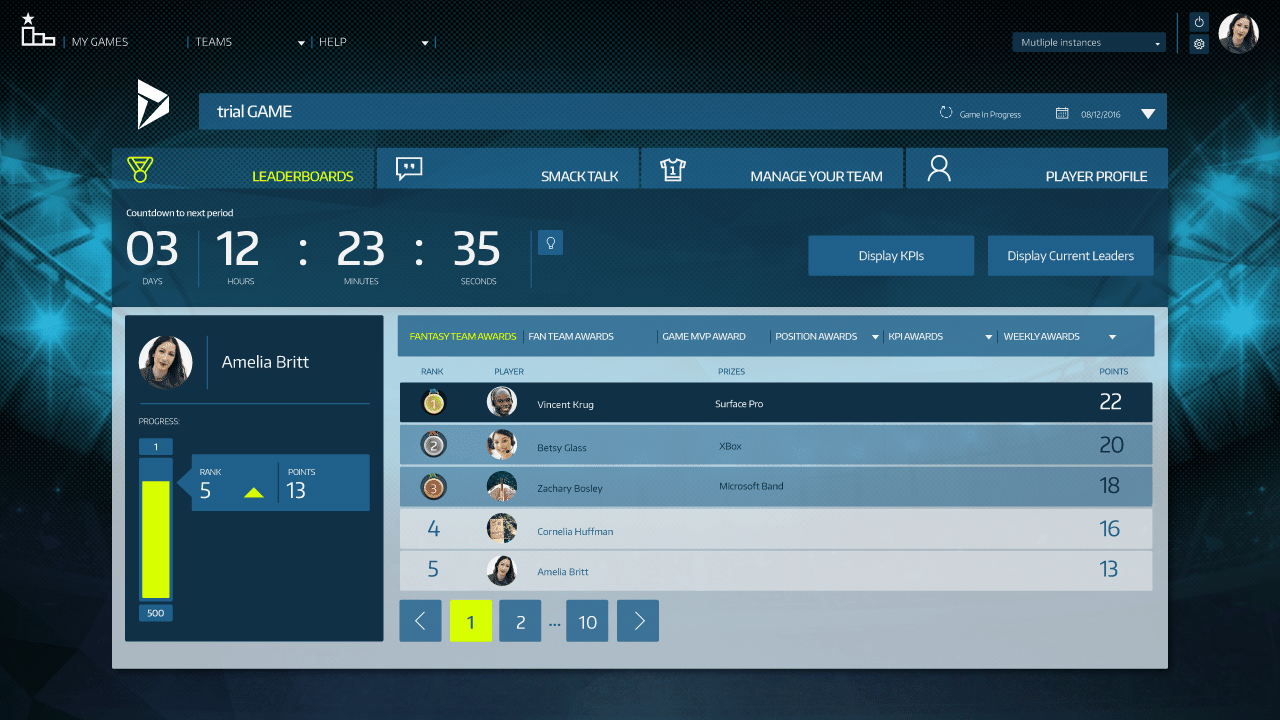 If you have a smaller user base, you can still add a little competition to your D365 system by using the Individual Competition option where everyone competes on their own against the pre-established KPIs. You can also use the Stream TV option if you have large screens in your office where you can display the on-going results throughout the day.
With Gamification you have nothing to lose and everything to gain with increased end-user adoption, which will lead to increased productivity by getting the most out of your D365 investment.
READY?  SET?  GET YOUR GAME ON!!  https://gamification.dynamics.com
If you have questions please do not hesitate to contact us at 800.796.4854. We can help you with all of your Dynamics 365 needs. Beringer Technology Group is a Microsoft Gold Certified Partner and has proven excellence in Managed IT Services.
Beringer Technology Group, a leading Microsoft Gold Certified Partner specializing in Microsoft Dynamics 365 and CRM for Distribution. We also provide expert Managed IT Services, Backup and Disaster Recovery, Cloud Based Computing and Unified Communication Systems.