Does it worry you when you send confidential information to another person inside or outside of your organization? If not, it should. Once a message leaves your mailbox, the protection of your data is no longer under your control. Whether by malicious intent or by accident your sensitive data may leak out without you ever knowing. Whether it's a financial statement, legal document or intellectual property, your document or message could be edited, forwarded or printed and there is nothing you can do about it. Or is there…
Enter Microsoft's Azure Rights Management solution. Azure Right's Management is a powerful, cloud based tool that can give you full control over the sensitive information that you need to share. This tool uses encryption, identity and access policies to help secure your files and give you the visibility into what is being done with these documents or e-mails.
With Azure Rights Management you can: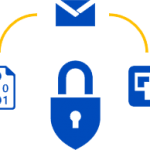 Protect unauthorized access to e-mails and attachments

Allow only the user you send to, to be able to read the message
Restrict the ability for a user to forward the message
Block the ability for a user to copy/paste from a document
Block the ability to print a document
Comprehensive reporting and control after the document is shared

Report on who and when the document was accessed
Set an expiration on a document or revoke access immediately
Send e-mails with state of the art encryption

Safely send compliant e-mail messages using message encryption
Templates available for all major compliance regulations to enforce policies without user interaction
Give users the ability to force encryption using keywords
Microsoft's Azure Rights Management is available as part of part of a stand-alone add-in to Office 365 or included in Microsoft's Enterprise Mobility +Security suite. For more information and to find out if Azure Rights Management is the right solution for you, please contact us at 800-796-4854 or info@beringer.net.