Beringer takes pride in being connected to the newest developments with Microsoft and Microsoft's Dynamics CRM. With the release of CRM 2016, it's important that you have support from a Microsoft Gold CRM Partner so your system remains current and in touch with all of the latest technologies.
Today I'd like to share with you one of the Preview Features Microsoft has made available in CRM 2016. Voice of the Customer is a customer feedback system tied to CRM to capture meaningful data and analytics to your organization. Surveys can be delivered by email to clients who can respond on their phone, tablet, or computer. A customer's feedback history can provide valuable insight about your products, staff, and business processes.
Voice of the Customer is available as a preferred solution to install over CRM 2016. Directions can be found here on installing CRM Preferred Solutions.
Using installed or custom templates, you can create your own customer survey experience right from CRM. The solution includes an interface to drag and drop content so you can capture customer feedback for CRM.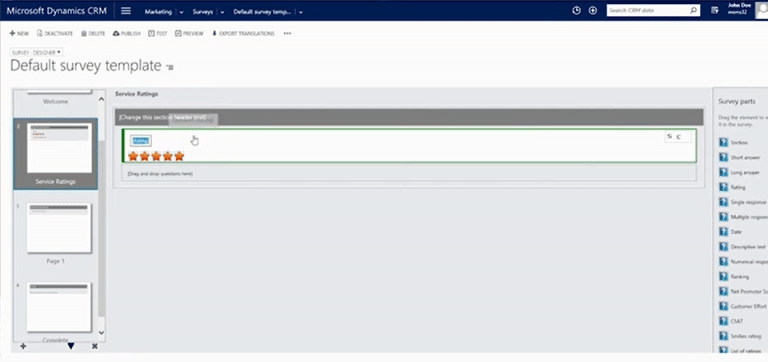 This preview feature is delivered through an integration with Azure Web Services. This means data will be flowing and queued through Azure as to take any workload of delivering and capturing customer survey data off of your CRM system for the best possible performance. Feedback Data can also be stored permanently in Azure Blob Storage or Azure SQL for analytics use with Azure Machine Learning. An integration between the two can provide crucial information for customer specific product recommendations or targeted marketing campaigns.
As a preview feature, Microsoft will be adding changes and does not recommend using this in a production CRM environment. Please test with a development instance until Voice of the Customer is considered a complete feature. For any feedback on this preview feature, please submit your thoughts to Microsoft Connect.
Check out the Microsoft Dynamics CRM Team Blog post on Voice of the Customer for more information and even more preview features for CRM 2016 from Microsoft
Beringer Associates, a Microsoft Gold Certified Partner, is here to support all of your CRM technology questions and issues. Please contact us today!