This blog starts with the assumption that you are utilizing Microsoft Dynamics CRM as your marketing tool, and you are not sure if you market to ALL of your accounts, contacts and leads. You've devoted a lot of effort to install and configure CRM. You've invested a lot of money to obtain qualified data. You've injected your expertise to create a wide array of marketing lists. But how do you know that all of your accounts, contacts and leads are part of an active marketing list? My marketing manager approached me with this same question, but I quickly found out that there's no easy answer.
Read on if you are interested in my solution…
Marketing is about delivering the right message to the right person at the right time. Effective marketing along with Microsoft Dynamics CRM's ability to segment and selectively target the right people can drive better quality leads and opportunities, which ultimately reduce the cost of sales and shorten the sales cycle. Marketing lists are incredibly powerful because you can use them to run mail merges, send direct mail, email, or phone call campaign activities, create opportunities, or even send a holiday Christmas Card.
Back to our original question, which accounts, contacts and leads are not involved in our marketing campaign? Once we determine who is missing, how can we create an actionable item? My solution was to develop an app that will find all active accounts, contacts and leads in your Microsoft Dynamics CRM system that are NOT part of an active marketing list. This app will create three marketing list (one each for accounts, leads and contacts), then populate them. All you need to do is click a button!
Check it out: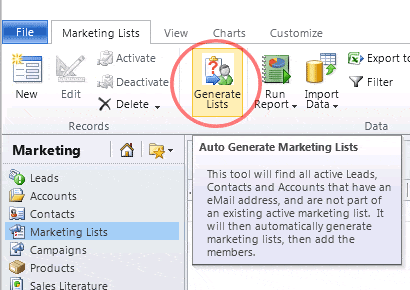 Here's the results:

I can open the marketing list, and see all of the members. At this point, I can easily see if I can divide the members into a logical marketing segment by utilizing my views. If so, I can simple remove the unwanted members and start a new campaign. Run the app again to reclaim the unwanted members into another marketing list as many times as needed. When I'm finally left with a disparate list of members, I'll probably send them a general eMail to reestablish communication & find out why they are in my CRM system.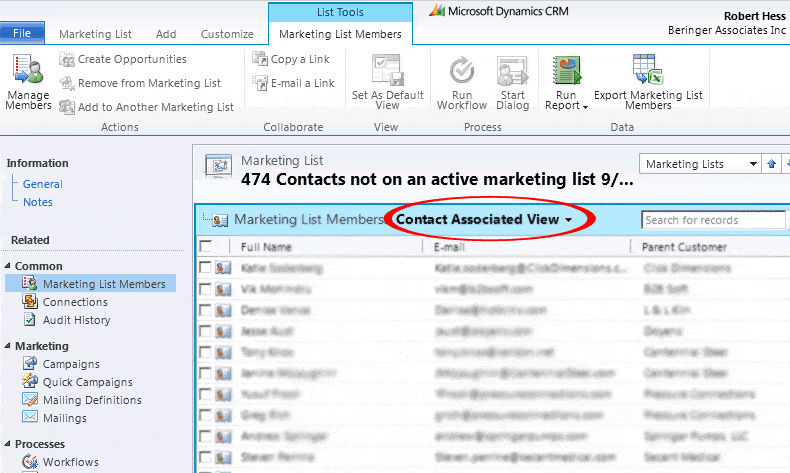 I hope you see the value of this app, and how it can help you verify no one ever falls thru the cracks.
Please reach out to us if you are interested in this solution!