As of 6/15/22 (today), Microsoft has officially retired Internet Explorer 11. Some users may have already noticed alerts when opening applications that use IE 11 for displaying certain components. One example of this is the Dynamics CRM Client for Outlook, but there are others. When attempting to open an application that uses IE 11 components, you will be redirected to open Microsoft's Edge browser instead.  (alert message like below):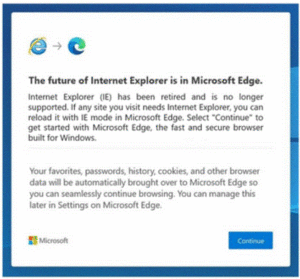 Why is it happening?
Microsoft has decided to deprecate IE 11 in favor of more modern and secure browser technology available in its Edge web browser.
When will this happen on my PC?
Microsoft is randomizing the day and time when IE 11 is retired on each PC, so each one will encounter the redirect to Edge browser at a different time. This will allow companies time to one-by-one address the issue through either "IE 11 mode" for applications, or upgrading/replacing applications that are hard-coded to use IE 11 and cannot be redirected.
When will Microsoft complete the IE 11 "retirement" process?
Microsoft will retire IE 11 in two phases - first, applications will be redirected to Edge as noted above, and second, there will be a Windows Update patch pushed out at some point that permanently disables IE 11. (no date has been published yet)
If your company is using one or more applications that rely on Internet Explorer 11, action is necessary, to either configure a background redirect from IE 11 to Edge browser or replacement of business applications with another option that can use Edge if a web browser is needed.  Give us a call for assistance through either process - we are here to help!
Beringer Technology Group, a leading Microsoft Gold Certified Partner specializing in Microsoft Dynamics 365 and CRM for Distribution, also provides expert Managed IT Services, Backup and Disaster Recovery, Cloud Based Computing, Email Security Implementation and Training, Unified Communication Solutions, and Cybersecurity Risk Assessment.