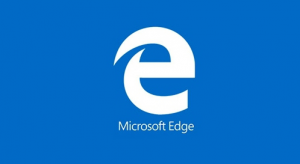 Can I get CRM to run faster? I typically hear this from clients who run older versions of CRM using Internet Explorer. There are many factors that can play into this lag time, but the most likely culprit is the web browser. I know that Internet Explorer has a bad rap for running slow, but it is not necessarily to blame. It's a web browser based on extensibility, which allows a user to plug in as many (emphasis on the word MANY) add-ons as they like. This not only slows down the CRM experience, but web browsing overall.
In older versions of Microsoft Dynamics CRM, the only supported web browser was Internet Explorer. But with the growing popularity of alternate web browsers like Chrome, Firefox and Safari, Microsoft realized the need to add support for cross browser compatibility. They also realized the need to create a web experience that would compete with their competitors.
Enter Microsoft's new web browser called Edge, which is exclusively found on Windows 10. This web browser was built primarily with speed and performance in mind, and will deliver a much faster web experience, especially with Microsoft CRM. Keep in mind that Edge is only supported on certain CRM versions that contain the proper service packs:
- Microsoft Dynamics CRM 2015 with Update 0.2 (7.0.2) and Update 1.1 (7.1.1)
- Microsoft Dynamics CRM 2013 will be supported with the pending release of Update Rollup 4 for Service Pack 1 (6.1.4)
Older versions of CRM 2011 or CRM 4 will not support the Edge browser. Not to worry, Beringer has extensive experience with upgrading your CRM system to the latest version, or even migrating you to Microsoft Online.
Please contact us if you would like help with your CRM Upgrade.