Print Management Export/Import Feature
I recently came across an issue where all printers under Devices and Printers went missing. This occurred after a server that we manage suddenly lost power. It is interesting to note that all printer drivers were still present, and the spooler service was running. After scratching my head and searching the web I discovered that by using the printmanagement.msc command, it is possible to export printers into a file. Luckily for me we use Datto image level backups and I was able to spin up a VM of the server and export the printers. From here it was a quick few steps to move this file to the live server and import it.
1. Open RUN and type printmanagement.msc and click ok.
2. Expand Print Servers and right-click on the server listed there.
3. Select either Import or Export depending on your need.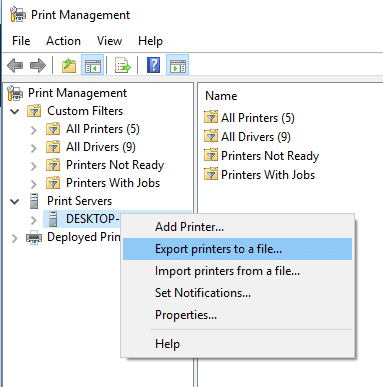 Beringer Technology Group is always here to provide expert knowledge in topics like these. Contact us with any questions you may have.
Beringer Technology Group, a leading Microsoft Gold Certified Partner specializing in Microsoft Dynamics 365 and CRM for Distribution. We also provide expert Managed IT Services, Backup and Disaster Recovery, Cloud Based Computing and Unified Communication Systems.