SharePoint vs Teams
Now more than ever, companies are relying on Microsoft Teams to keep their employees in sync.  With Teams comes a native integration to SharePoint that gives users a window into SharePoint Libraries with limited functionality, all within Teams!  This is a great primer for a full-blown SharePoint implementation, but do you need one?  SharePoint within Teams offers a lot of functionality on it's own, but a true SharePoint site offers even more.
Teams and SharePoint as Platforms
It is important to understand that Teams and SharePoint are very different platforms that are designed with different end goals in mind.  Teams is, first and foremost, a communication platform.  This means that its primary focus is to provide chat and voice functionality to your business.  SharePoint, on the other hand, is a file collaboration and storage tool.  Both of these tools integrate well with one another and with additional Microsoft Applications.
Determine your business needs
Companies often implement Teams before SharePoint for a few reasons. First, Teams generally requires less set up than SharePoint and provides a function that nearly every business needs (especially today): communication.  For some businesses, the Files Tab within a Teams Channel may be the first introduction to "SharePoint".  The Files Tab points to a vanilla SharePoint Library and interacting with this library through Teams has limited functionality. However, you can modify this library from SharePoint, and the changes will be reflected in Teams.  Although the title of this blog is "SharePoint vs Teams," we're really interested in discussing whether or not a company should make the leap from Teams to Teams + SharePoint.
Teams has a built-in SharePoint integration where you can store and collaborate on documents. So, what's the need for a complete SharePoint build?  Well, as mentioned earlier, SharePoint within Teams doesn't have all of the functionality that you would get by using SharePoint directly.  Here's a list of some additional Document Library functionality you would get with SharePoint: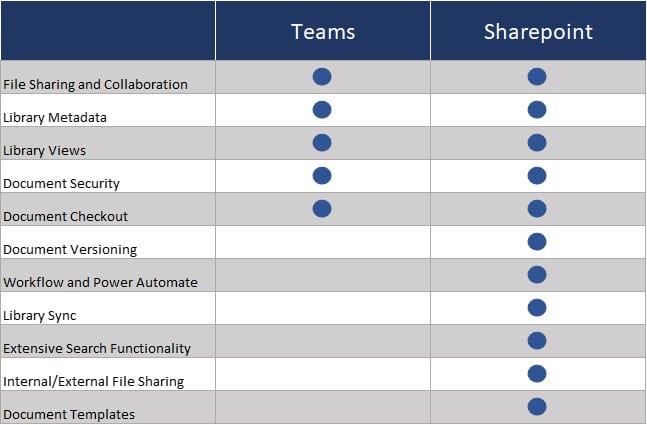 This is (by far) not a complete list of additional functionality SharePoint provides, just some of the most popular SharePoint Document Library functions not available in Teams.  Additional features include:
Fully customizable Permissions, Groups and Security settings
SharePoint Lists, used to track things like Company Directories
Custom Site Branding and Themes
The best way to determine if SharePoint is right for your business is to review its capabilities and ask, do these features apply to my business?  If so, Teams and SharePoint is powerful combination that can meet all of your communication and file collaboration needs!
Thinking about adding SharePoint technology to Teams? We can help!
Beringer Technology Group, a leading Microsoft Gold Certified Partner specializing in Microsoft Dynamics 365 and CRM for Distribution also provides expert Managed IT Services, Backup and Disaster Recovery, Cloud Based Computing, Email Security Implementation and Training,  Unified Communication Solutions, and Cybersecurity Risk Assessment.