Are you marketing to all of your Dynamics Accounts, Contacts and Leads? If you are marketing with Dynamics 365, you know it's very easy to identify which of your records are part of an active marketing campaign. But what about the new people that are added? How about the people that never responded to an old campaign, and are collecting dust? There has to be a better way to stay in touch…
Check out this app for Dynamics 365 called Stay In Touch 365. With a single click, Stay In Touch 365 will search for any active Accounts, Contacts and Leads who are NOT on an active marketing list. Three new marketing lists are created, giving you an easy way to reengage.
Stay In Touch 365
1. Visit Microsoft AppSource and download Stay In Touch 365 by clicking here.
2 .Open the Stay In Touch 365 Managed Solution and click on Configuration.
3. Click on the Yellow Star that reads "Click Here To Begin."
4. You will be redirected to the Parent Business Unit. Click the box labeled "Click Me to Generate New Marketing Lists!"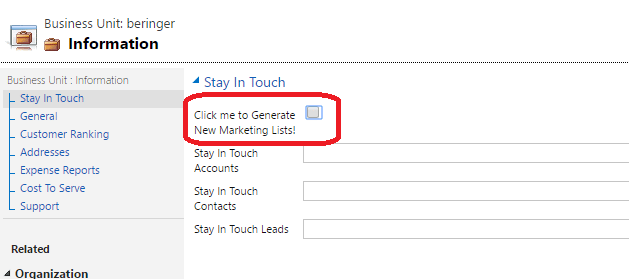 5. Your new marketing lists are now generated. Click on one of the links to open a list.

/wp-content/uploads/2017/08/4.png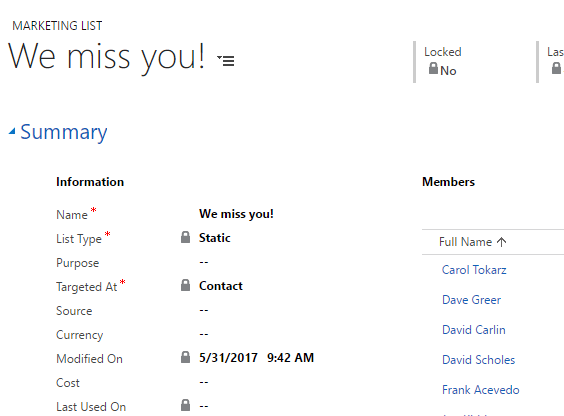 Beringer has deep experience building solutions for Dynamics 365. If you are looking for a Dynamics partner to help you with your projects, make sure you pick the one that adheres to all of the Microsoft methodologies and best practices. Contact Beringer with any questions you may have.
Beringer Technology Group, a leading Microsoft Gold Certified Partner specializing in Microsoft Dynamics 365 and CRM for Distribution. We also provide expert Managed IT Services, Backup and Disaster Recovery, Cloud Based Computing and Unified Communication Systems.