Sharing "My Views" with Teams
In Part One, I talked about the differences between System Views and My Views. I also mentioned that whenever possible to filter by dynamic values (current user, manager, territory, last month, next year, etc.).
What if you work for a company that has several different divisions and your user base works across multiple divisions? They would want to have access to their views but they don't necessarily have to see all of the views for all of the other divisions. Depending on the different divisions or departments, you could end up with over 100 different views!
In the end, you will still have a lot of views but they won't be visible to all users all the time. As the system administrator, you will have access to all of the views but since you're sharing the views with teams you only have to maintain the team members and not the views.
Let's Get Started!
The first thing you need to do is setup Teams. They are very easy to setup and are very easy to maintain. In D365, go to Settings | Security | Teams. Create a new Owner Team (give it a name, add it to a business unit, assign it an administrator, and select a queue). After you save your team you can now add users to it. Add any users who fall under this team. The great thing about teams is that one user can be in multiple teams. Any new users you add in the future can be added to teams directly from their user record. You can save yourself a few clicks this way!
For an example, think about a car dealership with different divisions for different makes of cars. User A could be a member of the Ford and Toyota team where User B is just a member of the Jeep team.
As the system administrator, you will have to setup all of the views for the different divisions and share them accordingly. Two things to keep in mind to save time: #1, you can setup the first view, save it, and then use Save As to 'copy' it and #2, you can share multiple views at the same time.
Sharing Your Views
In the Advanced Find popup window, click on 'Saved Views'. This will give you a list of all of your saved views for the selected entity. Click on the List Tools, Saved Views tab (if necessary). You can select a different Record Type here as well. Select the view(s) that you want to share with a specific team and click the Share button in the ribbon. In the Share saved view window, click on Add User/Team from the left, select Team as the record type, select your team, click OK, and then click Share. You can choose different permissions as well, but I recommend only giving Read access to these views.

As an admin/creator of the views, you will see everything when you access the views from the entity:
User B, who is only a member of the Jeep team, will only see the views shared with the Jeep team: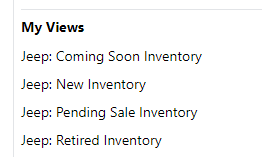 User A, who is a member of the Ford and Toyota teams will see the views shared with those teams: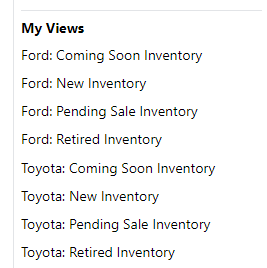 System Views or My Views?
This is a question you will have to answer yourself. Do you have hundreds of different system views? Can they be minimized by using dynamic filtering? If you legitimately need to have a lot of different views then sharing with teams may be the way to go. It takes some time to setup initially, but going forward, when you setup a new user, all you have to do is add them to the appropriate team(s) and they inherit all of the views shared with that team. As an added bonus, since these are 'Owner' teams, you can even assign records to these teams in CRM as well.
If you chose to use My Views and sharing, be sure to map out your plan. Come up with a good naming convention and align the teams in accordance with your company's structure. If you need help, we are experts in this and can assist you. Contact us today!
Beringer Technology Group, a leading Microsoft Gold Certified Partner specializing in Microsoft Dynamics 365 and CRM for Distribution. We also provide expert Managed IT Services, Backup and Disaster Recovery, Cloud Based Computing and Unified Communication Systems