If you are looking for a tool within Dynamics 365 to send surveys, distribute them to specific CRM records and capture responses and excellent analytics, take a look at Voice of the Customer. The Voice of the Customer solution is available for all Microsoft Dynamics CRM Online subscriptions at no additional fee. Microsoft details how to install the Voice of the Customer solution into your Dynamics 365 environment here.
Why Voice of the Customer?
So why use Voice of the Customer? It's out of the box functionality allows you to send surveys to specific Contacts, Leads or Accounts with the ability to personalize and customize surveys with Dynamics 365 data. Moreover, you can trigger survey sends with workflows! Imagine the possibilities:
When a Customer Service agent closes a case, have a Customer Satisfaction survey sent to them immediately and get close to real-time feedback on their experience.
Once a survey response is received, if the score is low in a specific question, escalate it to the appropriate managers.
When a lead from a trade show is entered into your Dynamics 365 system, have a short survey sent to them to learn more about the sales opportunity and segment the lead based on the responses.
Survey Types: Anonymous and Non-Anonymous
Voice of the Customer offers two survey types: Anonymous and Non-Anonymous.
| | | |
| --- | --- | --- |
| | Anonymous | Non-Anonymous |
| Survey Responses | Responses not associated with a Dynamics 365 customer record | Responses tied to a specific Contact, Lead or Account |
| Survey Link | One general link / iFrame on website | Link to survey is specific & unique for each customer |
| Personalization | No personalization | Personalize using Piped Data to address the customer directly |
| Distribution | Link for email, Twitter, webpages | Individual email |
Customizable
One of the great things about Voice of the Customer is that your surveys are highly customizable. Design your company's theme by uploading your logo and customizing colors based on your brand. Personalize your non-anonymous surveys with Dynamics 365 data. Create response routing rules based on question responses. Add action items to survey responses that are triggered automatically based on feedback or scores.
Follow Up Actions: Client Actions & Server Actions
When specifying follow-up actions on a survey question, Voice of the Customer gives you two category types: (1) Client Actions and (2) Server Actions. Client actions are triggered on the survey itself. An example of a client action is hiding or showing a question based on a response to a previous question. Server actions are triggered outside of the survey itself. Examples include creating a follow-up or complaint based on a response.
Viewing Survey Responses & Outcomes
Voice of the Customer allows you to view Survey responses to an individual's answer. To view this, go to Voice of the Customer for Dynamics 365, then click on Survey Responses. From here, view the Survey response you want to view.
To view any response outcomes for surveys, go to Voice of the Customer for Dynamics 365, then click on Response Outcomes. Click on the response outcome you want to view. These response outcomes are created by you (tied to a specific survey question) and completely customizable! In the below example, a response outcome rule looks for a satisfaction score of 1, 2 or 3 and escalates the case to management via an email workflow.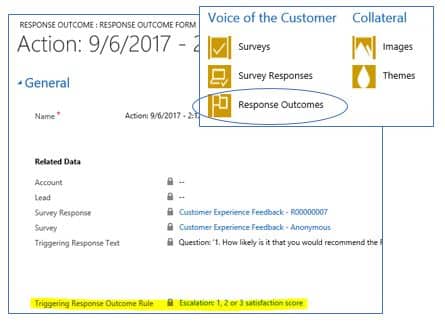 Analytics: Dashboards & Reports
Voice of the Customer also comes with Dashboards and Reports in Dynamics 365. To access, go to Voice of the Customer for Dynamics 365, then click Surveys. Select a Survey from the list.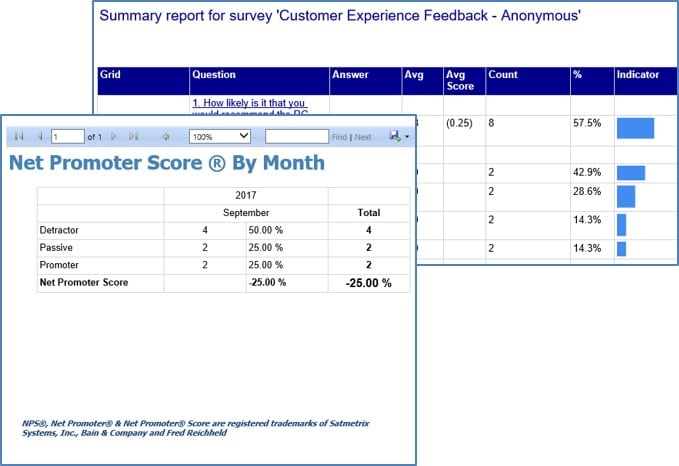 Dashboards: Click the Survey box, then click Dashboard. Customize with the data you want to see about your survey.
Reports: Click …, then Run Report. Select the report you want to run.
Limitations of Voice of the Customer
It's important to understand the limitations of any tool, and there are some with Voice of the Customer that are worth mentioning. You can only have a maximum of 200 surveys in your database. Voice of the Customer also limits questions per survey to a maximum of 250. However, I would strongly recommend not including anywhere near 250 questions as a best practice!
There is a max of 2,400 survey responses per day (any additional responses will be stored in Azure and pull into your Dynamics 365 instance the following day) and 1,000,000 survey responses stored.
Want help installing & configuring Voice of the Customer for your organization?
If you have questions please do not hesitate to contact us at 800.796.4854. We can help you with all of your Dynamics 365 needs. Beringer Technology Group is a Microsoft Gold Certified Partner and has proven excellence in Managed IT Services.
Beringer Technology Group, a leading Microsoft Gold Certified Partner specializing in Microsoft Dynamics 365 and CRM for Distribution. We also provide expert Managed IT Services, Backup and Disaster Recovery, Cloud Based Computing and Unified Communication Systems.