Did you know, Microsoft Dynamics 365 connections allow users to relate multiple records without custom relationships? Dynamics 365 connections give users a holistic view of their data without directly affecting their data model. Connections is one of many features Dynamics 365 offers that is not available in Salesforce.
In related blogs, we've also written about a comparison of Advanced Search  and comparison of CRM Integration features between Dynamics 365 and Salesforce.
What are Connections?
Typically, one-to-one (1:1), one-to-many (1:N), or many-to-many (N:N) relationships are configured in order to relate records together in CRM systems. However, the out-of-the-box Connection entity in Dynamics 365 allows users to relate a source record to a target record seamlessly without 1:1, 1:N, or N:N relationships. When connections are created, two records are added. The first record represents the source to target connection, and the second record represents the target to source connection.
Connections can be created between records of the same entity or different entities. For example, users can connect multiple contacts to an opportunity, multiple accounts to a contact, or multiple contacts to a single contact without lookup fields.
How to enable Connections
To enable connections for an entity, open the entity within the Dynamics 365 solution. Select the "Connections" checkbox under the "Communication & Collaboration" section.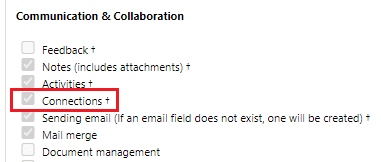 In order for users to create meaningful connections between records, additional Connection Roles may be configured.  Connection Roles let users define how records are related to one another (i.e., employer or employee, adviser or advisee, parent or child, stakeholder or consultant).  Users can additionally define matching roles to identify reciprocal relationships when a particular connection is saved. For example, if a Connection Role of "Instructor" exists, a matching role "Student" can be added to it. Matching roles can save users time and improve data entry. Configure matching roles that best fit your organization's needs.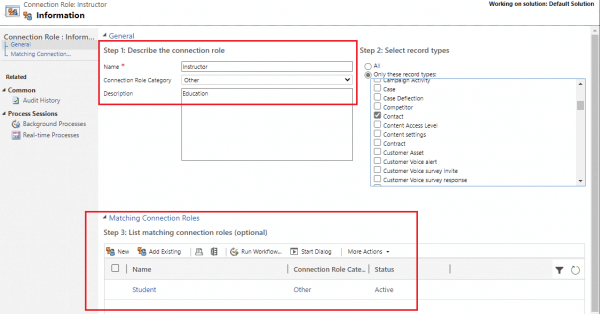 How to create Connections between records
Once Connection Roles are defined, users can begin creating connections by opening a record and using the "Connect" button on forms.

Then, they can select which records they want to link and identify the role for the connection. If a matching role exists, when users select the role, the system will automatically populate the matching role on the respective source or target record.
We've been working with Microsoft Dynamics since its inception. As a result, we're always finding innovative ways to implement the latest tools and automate business processes.  Beringer Technology Group, a leading Microsoft Gold Certified Partner specializing in Microsoft Dynamics 365 and CRM for Distribution, also provides expert Managed IT Services, Backup and Disaster Recovery, Cloud Based Computing and Unified Communication Solutions.