WHAT IS AI BUILDER?
2020 was certainly a difficult year for many of us. But as we look ahead to a brighter future in 2021, what better way to start it out than with some AI? After all, AI is designed to improve our lives. Specifically, let's talk about Microsoft's AI Builder. If you're not already familiar with AI Builder, it's a feature that's part of the Microsoft Power Platform that allows organizations to predict outcomes and improve business performance. It's also a code-less solution, so your admins, business analysts and super users can easily get started with it.
KEY FEATURES
It's not necessarily new this year, but has some recently added cool features. This past year, it added better integration with Power Apps and Power Automate which includes:
AI Builder operation group in Power Automate - admins can choose from a list of AI models to add intelligence to automated processes. Some examples include:

Categorize text in incoming emails or on social media to analyze the meaning

Process forms attached to an incoming email and save the extracted information to Dynamics 365 or in a SharePoint list


Extract text from or count objects in images


Predict outcomes using your historical data by training your models automatically



On-demand prediction (only in public preview as of Sep 1, 2020)

Admins can invoke your prediction models and get the outcomes in real-time
AVAILABLE FEATURES AND PREVIEW OF MORE
Additionally, new features have been added to preview, with a few already generally available:
Easily add AI Builder text models to your Power Apps applications by using new controls and formulas
Receipt processing
Text translation (already generally available)
Use Power Automate prebuilt templates to add AI to your business processes (already generally available)
Extract entities from text with prebuilt entity extraction models (already generally available)
Customize your entity extraction model (already generally available)
Customize your text classification model for categorizing your text (already generally available)
Numerical prediction

For example, you can predict product ratings, price estimates, time to completion, etc.

Multiclass support for prediction
Schedule training and inference
HOW DO I ACCESS IT?
To get started testing out these features, just sign in to your Power Apps or Power Automate. Select AI Builder -> Build: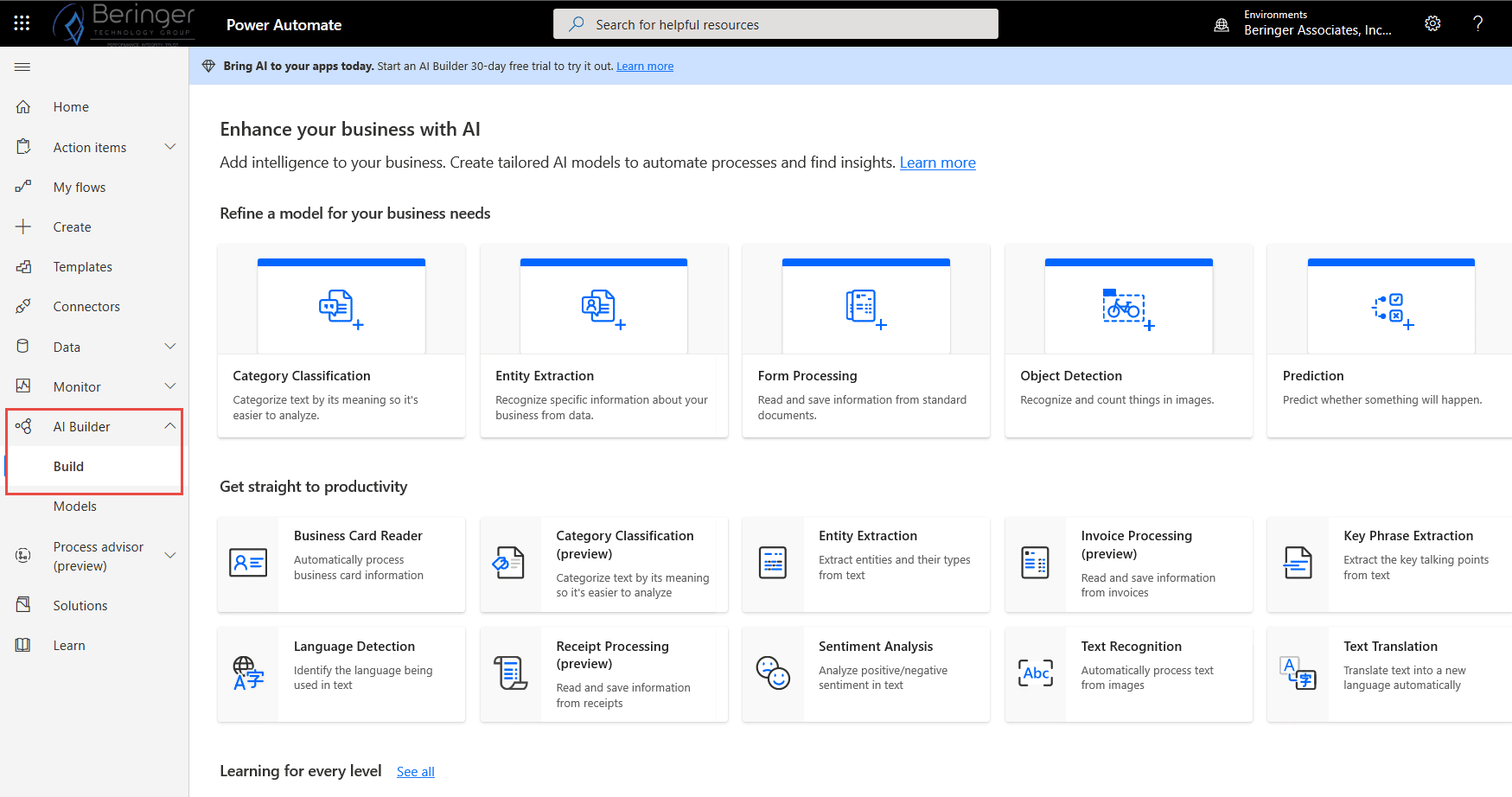 We've blogged about Microsoft AI here and here in the past, some of which allow more tailored experiences with the assistance of a developer. AI Builder features will continue to improve and becoming more mainstream in the near future, so don't hesitate to get started!
Beringer Technology Group is always here to provide expert knowledge in topics like these. We hope you found this highlight of AI Builder features helpful! If you have any other questions, contact us today to learn more!
Beringer Technology Group, a leading Microsoft Gold Certified Partner specializing in Microsoft Dynamics 365 and CRM for Distribution. We also provide expert Managed IT Services, Backup and Disaster Recovery, Cloud Based Computing and Unified Communication Solutions.